Improve your Affiliate Strategy with Link Tracking
Whether you are an experienced affiliate marketer already making lots of money online or still learning, the following guide on how to earn money with affiliate links will benefit you. Though affiliate marketing gives you the option of recording your audience purchases with tracking coupons or links, affiliate marketing with Link Tracking is one of the most profitable and flexible digital marketing strategies you can use. Read on for a wealth of tips to improve your affiliate marketing strategy and earn money with Tracking Links.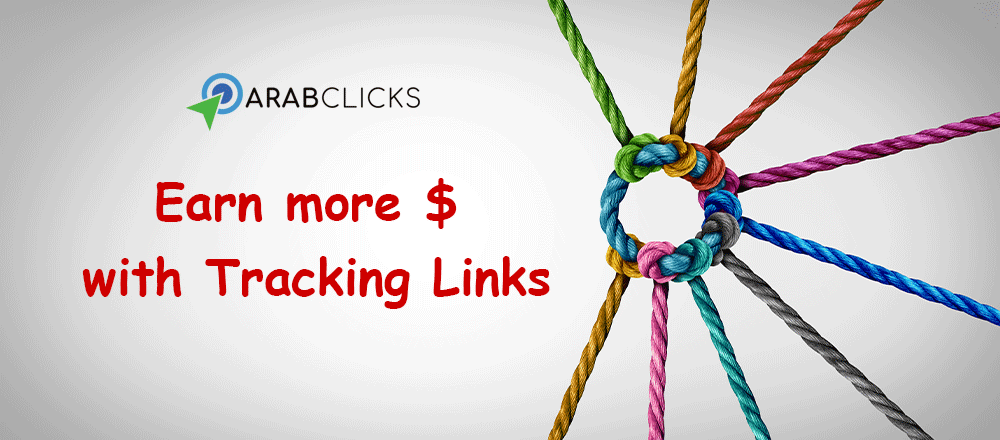 How Affiliate Link Tracking Works
Affiliate marketing is a way of making money online that pays you a commission for each sale you refer to an advertiser.
Each purchase your audience makes is tracked with a unique link that is connected to your profile.

Tracking links and Tracking coupons are two ways to record these sales – so you can be sure to get paid!
While tracking coupons (coupon offers) are a good option, many top affiliates prefer to work with tracking links (link offers) – because using links the potential for earning is greater.

Stay tuned for the Top 10 Advantages of Tracking Links…Or get all this and more in our set of 10 Videos on how to make moe with Link Tracking
But first, read on for the main differences between Tracking Coupons & Tracking Links:
What are the differences between Link Tracking & Coupon Tracking?
Tracking Coupons (aka offline codes / coupon redemption & attribution ) are exclusive coupon codes also tied to your Affiliate ID. ArabClicks and the Advertiser track & pay you each time your personal discount code is used – no need for a Link.
Tracking Codes are ideal for social media as they don't require external links – and Instagram, Facebook and Twitter do not like posts that direct users outside their site.
How Link-Tracking Works
Tracking links are unique URLs that record the traffic you send to an advertiser website. Each link includes your ArabClicks ID and records performance and sales made from your link. It looks something like this :



You share your unique affiliate links on your website or social channels, and motivate your audience to click and convert with an engaging image or text promotion. Every audience member click is stored by the link tracking and credits you with a commission when your audience decides to buy.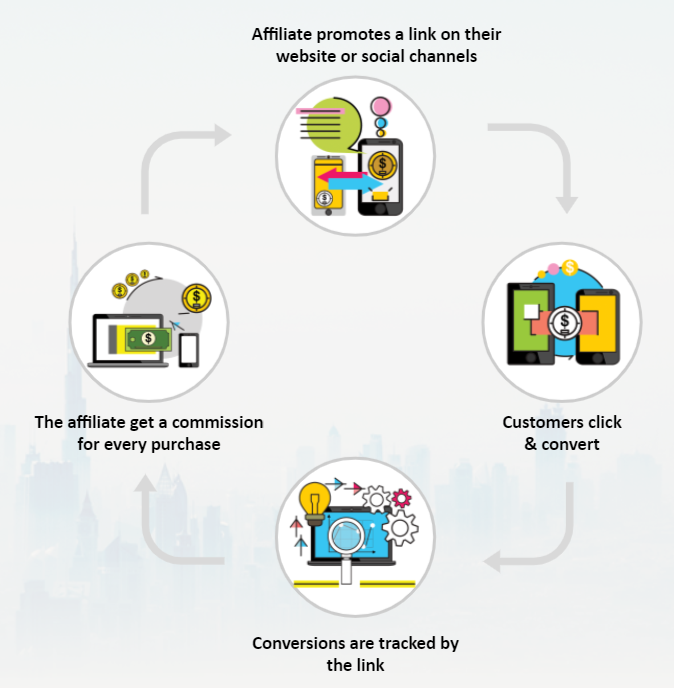 Tracking Links offer a number of important advantages – read on to find just a few of these!

The Many Advantages of Link Tracking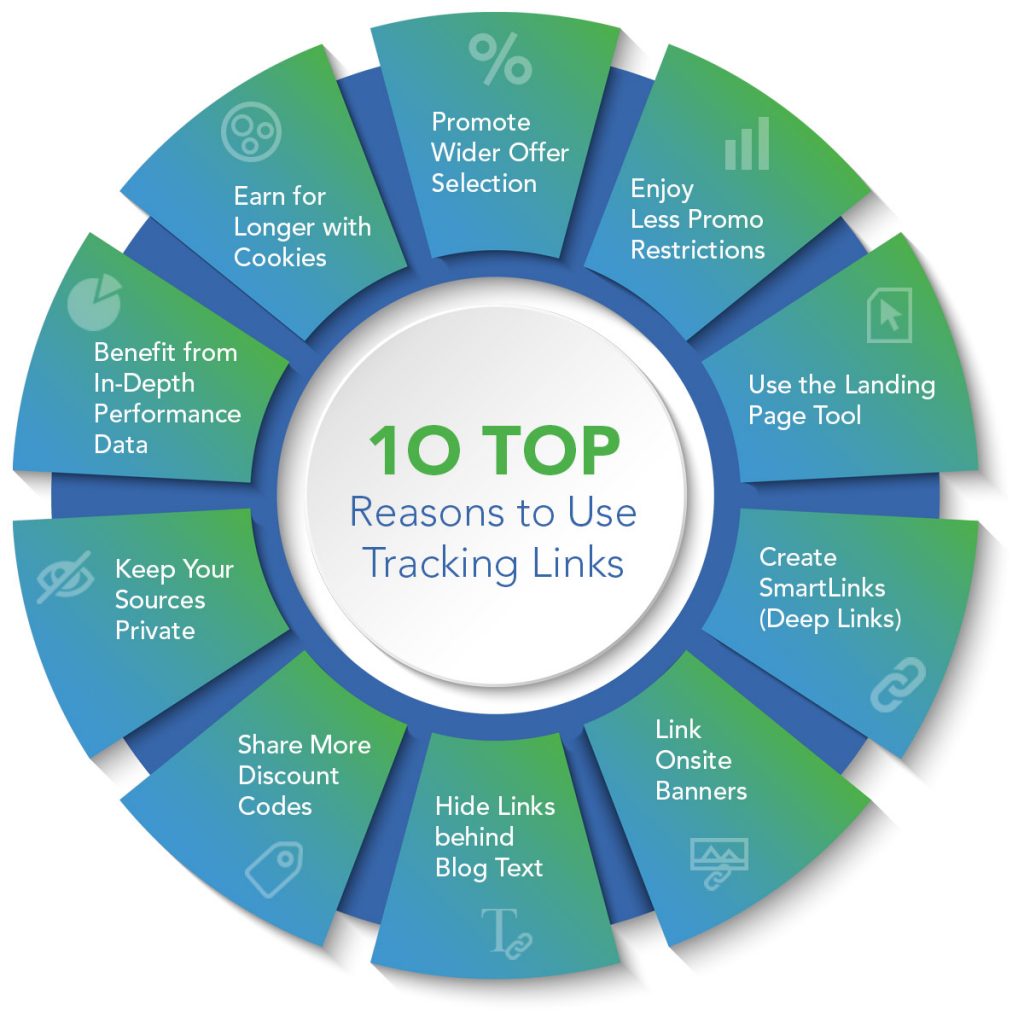 As you can see, working with affiliate links offers a wealth of advantages – read on for more details:
Cookies
A Cookie is a small file that gets stored in your audience's browser when they click your Tracking Link. This little snippet of data tells the advertiser to credit you when a purchase is made. Depending on the 'Cookie Validity' period, commissions can be earned weeks after the original click. Learn more: Guide
Better Offer Selection, Better Terms
Many more Advertiser Offers are available for affiliate links than for affiliate coupons, so when you work with Tracking Links you get a much bigger selection of offers you can promote.

Further, Advertisers who offer both Tracking Links and Tracking Codes for their offers often offer a better commission for Tracking Link conversions.
Less Exclusions
Lastly, there are often extensive product and brand exclusion lists associated with Tracking Coupon offers. Conversions on excluded brands – often the most popular – will be excluded from the discount and thus ineligible for a commission.

By contrast, Tracking Links often enjoy a much smaller or non-existent brand exclusion list for the same Advertiser. This means that most Advertisers will pay you on conversions from your Tracking Link no matter what brand product was purchased.
Landing Pages
Landing Pages modify your link tracking to send your audience to a specific page, thus shortening your customer journey and increasing conversions.

To get a special Landing Page link, first go to one of your approved offer pages. Then look for Landing Page > Default URL & click the down arrow to choose another Landing Page. Then just copy Your Tracking Link above and promote it like any other Link offer.

ArabClicks Landing Page links are like SmartLinks but simpler to make and offer less flexibility. Landing Page links lets you send your audience to a shortlist of preset Advertiser landing pages – not to any page you want on the Advertiser site, such as with SmartLink.

For more on ArabClicks SmartLink, read on in the section below…
SmartLinks
SmartLinks (deep links) are affiliate links that send your audience directly to the Advertiser page you want to promote. It's almost like using ArabClicks Landing Page Links (see section above), but you can choose any page from the Advertiser site – not just from a short selection.

Use ArabClicks' new SmartLink Generator to create up to 50 SmartLinks at a time for any offer you are approved for.

Login and find it under Tools > SmartLink Generator
Or you can go to the Advertiser Offer page to create your SmartLinks.

Get in depth, step-by-step instructions for both methods here:
Creating SmartLinks Article/Video/Guide
Banners
Using tracked links lets you subtly insert your affiliate tracking behind photos & banner ads on your site – leaving your primary site text promotion-free. This can lead to more and better quality site traffic, since placing your marketing on the side can lead to a more authentic connection with your audience.

Learn more about ArabClicks Display – the ArabClicks Smart Banner Solution.
Hyperlinks
When you run a blog, or other content-heavy website, you can place Tracking Links throughout your text – hyperlinked behind product mentions or other keywords.

This gives your audience an opportunity to take your advice and support your work without using language that's explicitly "market-ey". Tracking Links take the pressure out of your writing so you can stay focused on producing high-quality content.
Coupon Codes
The biggest variety of exclusive coupon codes you can promote in your channel are designed to work only with your Tracking Links.

These coupons are called Promo Codes or sometimes Online Coupons, and you can often find them on the Advertiser ecommerce homepage along with big onsite sales. Share Promo Codes along with your Tracking Links to benefit from the hype the Advertiser is already creating with their brand promotions.

In addition to the Advertiser ecommerce portal, you can always also find lots of promo codes by visiting our Coupons Page, filtering by 'Online Coupons. Within minutes, you'll collect a broad range of codes to share with your audience.

Get the Using Coupons PDF Guide
Keep Your Source Private
One of the best ways to make money with Tracking Links is to create social channels, messenger groups and a website/blog focussed on trending store sales and deals.

Get your deals from ArabClicks & but keep your source private by sharing anonymous shortened affiliate links using a custom link shortener like https://tiny.cc/
In-depth Performance Data
The ability to track user behavior, the regions it comes from and the devices users are purchasing from improves the chances of successfully targeting more users and attracting more conversions.

See all this data in your Performance Report and your Conversion Report

Analyzing data such as conversion rate, ads performance, device, & customer location can help you plan more effective campaigns.

Learn more in our Reports PDF
How to Find your Affiliate Links
Finding ArabClicks Tracking Links is simple!
If you've not yet signed up for ArabClicks, you can see a full list of our hundreds of Advertiser Offers – or see lists of our top offers by category
If you're already an ArabClicks Affiliate, first login, then select Offers > All Offers to browse through tons of the best GCC/MENA and international brands.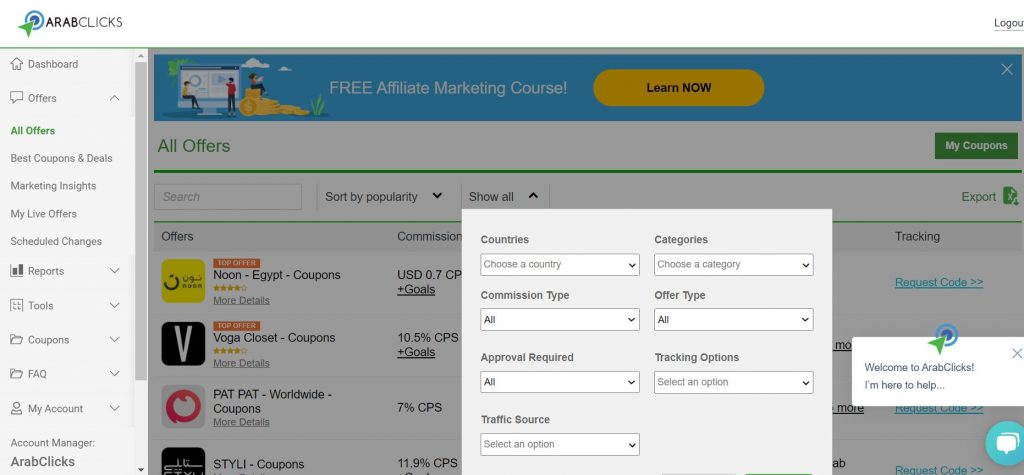 If the selection is overwhelming, don't forget that you can choose from a shortlist of ArabClicks Top Offers & access current Coupons & Deals
And lastly be sure to avoid all offers labeled 'Coupon Offer" – since affiliate links are not available for these.
Also, you can click the Advertiser icon to check out their ecommerce landing page.
See relevant details such as Offer Name, Commission, Category, Geo & Tracking
Show all – or filter by Country, Categories, Offer Type, Commission Type, Approval Requirement, Tracking Options and Traffic Source.
Or Sort by – Popularity, Offer Rating, Newest & Commission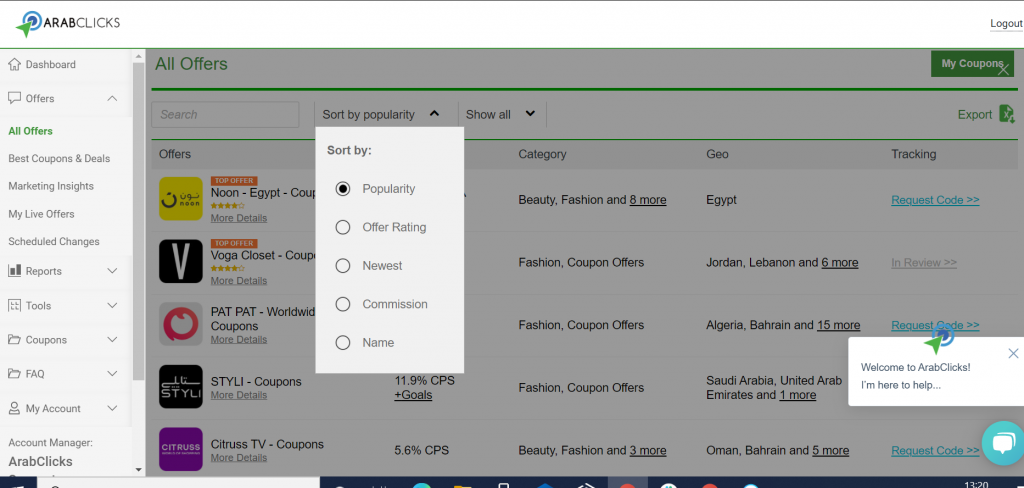 Get Your ArabClicks Links –
Pick an Advertiser Offer
Get Your Affiliate Links

Once you've chosen an Advertiser Offer, click Show Link for OPEN OFFERS & Request Link for APPROVAL OFFERS.
Until you earn $100, you can get unlimited OPEN OFFER LINKS but only 2 APPROVAL OFFER links.

Agree to Terms

In either case, you'll need to 'Agree to Terms'

Get Your Tracking Link

Once you are approved, your affiliate links can be found from the All Offers page – just click Show Link >> and a popup will appear with your Tracking Links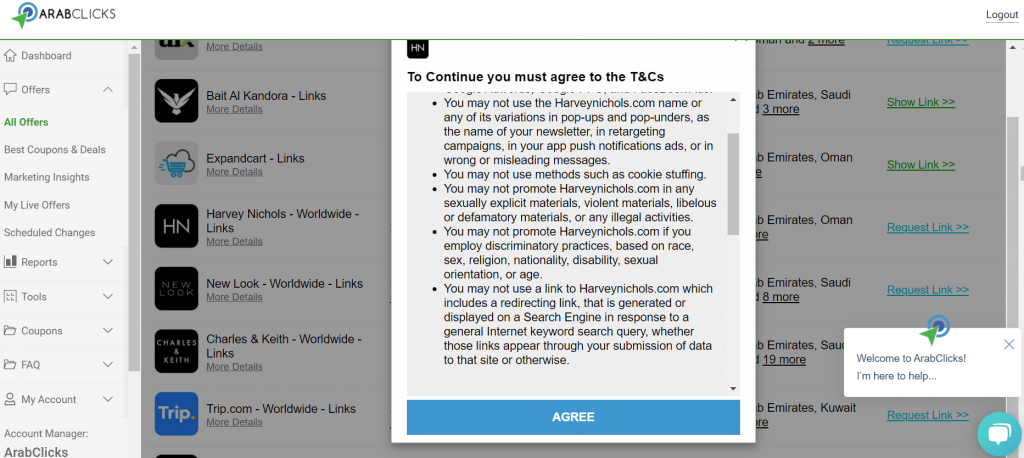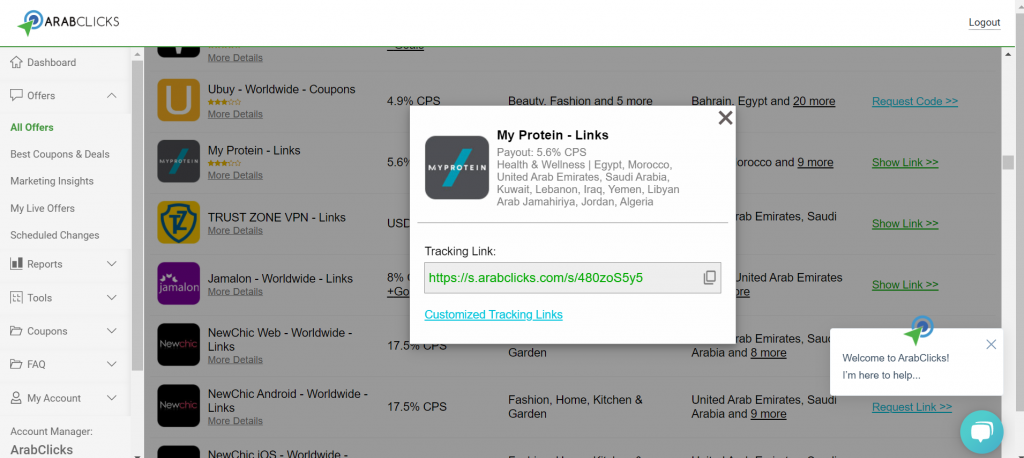 What does my Tracking Link look like?
Your Tracking Link will appear in the following format:
https://go.arabclicks.com/aff_c?offer_id=X&aff_id=Y
Besides the basic ArabClicks URL, there are two main elements of interest contained within your Tracking Link.
First, is the Offer ID – marked as offer_id=X where X is the offer number shown on the Advertiser Page in the ArabClicks site: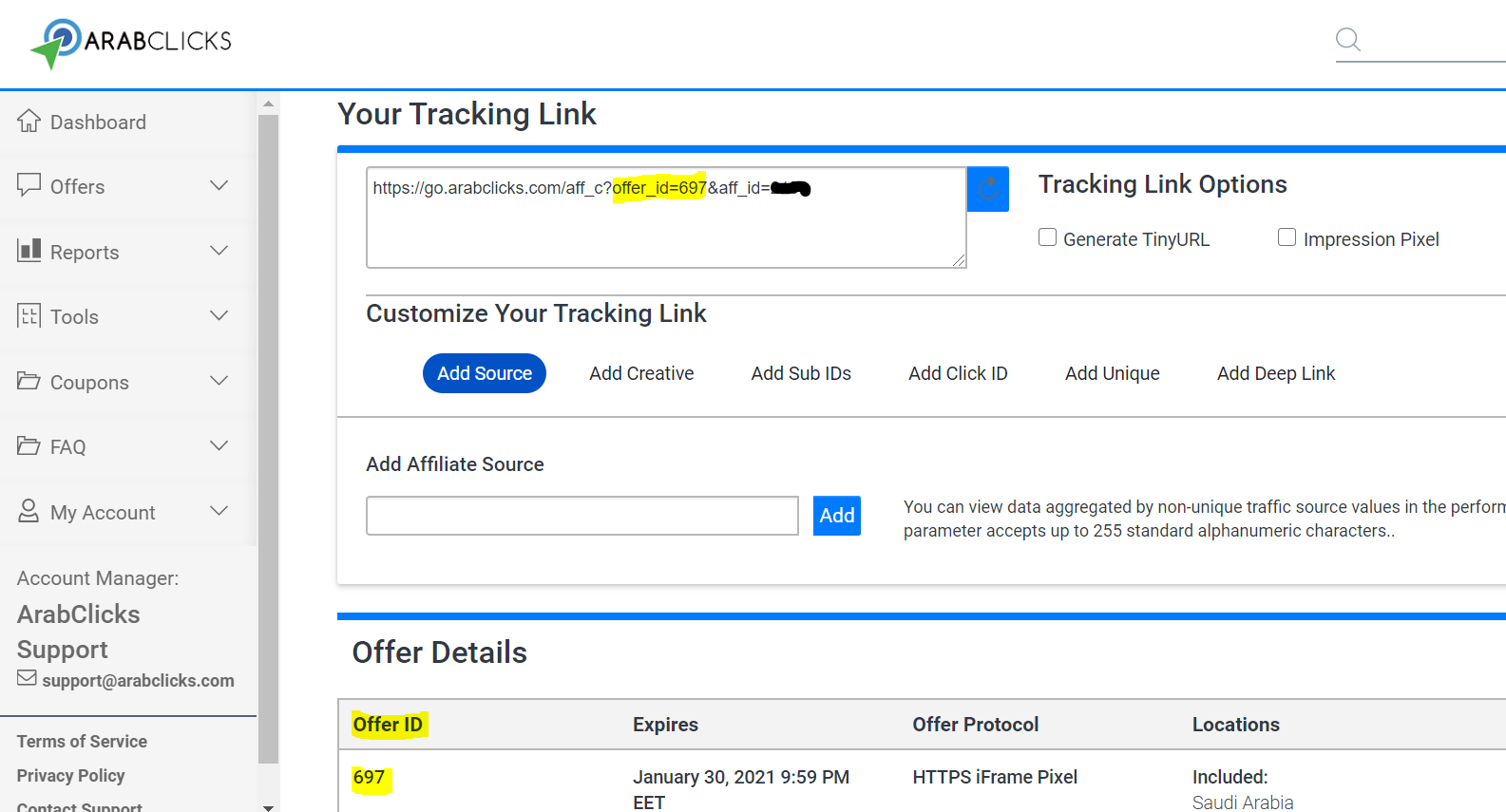 In the case of this Advertiser, Adidas, you can clearly see the Offer ID is 697 both in the URL above and in the Offer Details below.

The noteworthy element contained in your link tracking is your Affiliate ID – delineated as aff_id=Y.

In this case, Y is your affiliate ID number with ArabClicks – the digital label used to report all of your clicks, conversions and commissions at ArabClicks.
ArabClicks Tip: Your Affiliate ID number is not only used to track your customer sales, it is also used to track your affiliate sign up referrals.

And just like an affiliate link, when you share your sign up referral link, you also make a commission – 3% on top of everything your referral earns.

Get your sign-up referral tracking link & share it with people who might like to join our amazing Affiliate partners at ArabClicks.
Where can you share your Tracking Links?
Once you have your ArabClicks Tracking Links, you can send, tweet, post & share them anywhere you connect with your friends, family and audience!

Channels where you can share your Tracking Links include (but are not limited to):
Facebook Post/Story
Facebook Group/Community
Twitter Post
Snapchat Post
YouTube Video Description
Your Website
Your Blog
Email list or newsletter
Whatsapp/ Telegram Group
Community Blog Site
Community Forum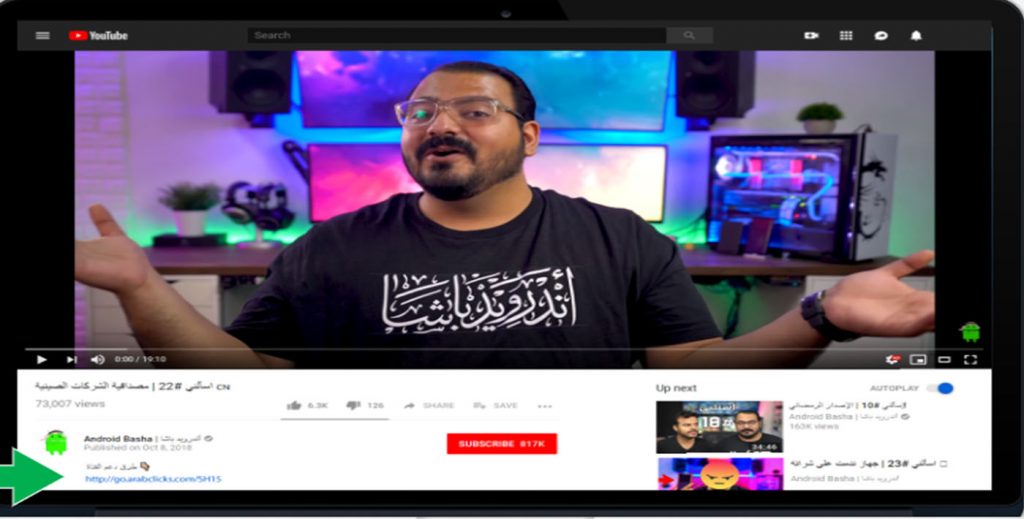 Simply add your link tracking to your content – when someone clicks & buys, you get paid!
ArabClicks Tip: In some forums where advertising is not allowed, you might need to link to your personal channel first, where you can then share your promotions & link tracking.
Promote Your Affiliate Links in Social Media
In order to engage your followers with your promotions, you should always share your Tracking Links with the following 3 elements:
Compelling Image/Video
Visual images are more emotionally compelling than text, so post your Tracking Links along with a powerful image, short video or GIF.

Learn more about picking just the right image for your Tracking Link post

And check here to make sure it's the right size!


Short Snappy Content
Create a short, vibrant piece of promotional copy to share with your links that excites your audience and encourages them to buy.

Check the Advertiser ecommerce site so you can share sales, offers, coupons and promotions currently live, or get an updated list with many of the Best Coupons & Deals.

Learn more about how to creating just the right text for your Tracking Link posts.

ArabClicks Tip: If there are offer restrictions or the offer is only valid for specific GEOs, you can list these also, since your Affiliate business is built on trust between you and your followers.


Engaging CTA
The very last line of text before you insert your link should be your Call-To-Action. Motivate your audience to buy with a few words of content highlighting the most important reasons why they should purchase right now.
Great Social Post Ideas:
Video Reviews of Trending Products
How-To
Quick Tips
Recommended Products Lists
Top Gift Picks
Holiday Posts
Contests
Memes
And much more
Make More with Affiliate Links on your Website
If you have a website or blog, you can share your link tracking behind banners, in text or behind promotional CTAs – the possibilities are endless!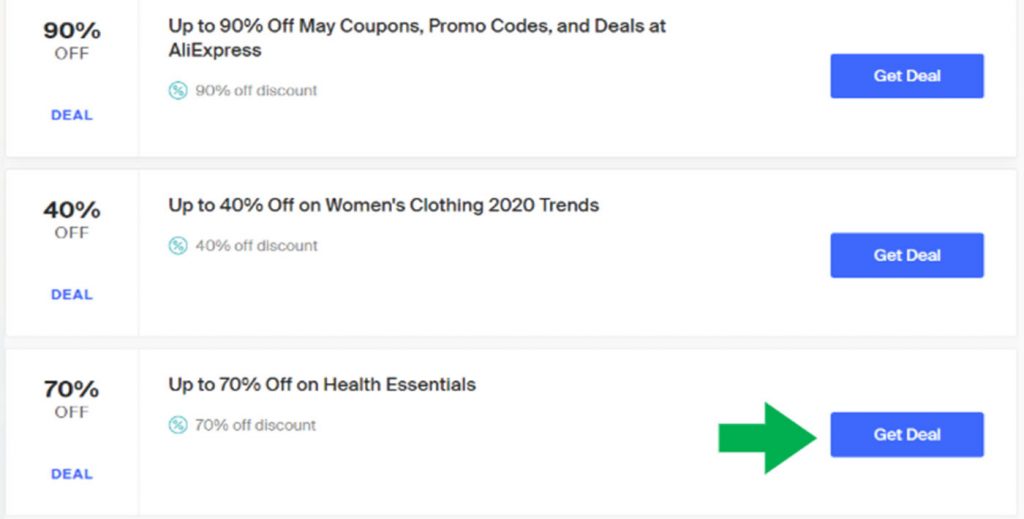 ? ArabClicks Tip:
Be sure to check out ArabClicks full suite of solutions for website publishers, including SmartLink, Display and LinkConverter /AlRabet!

We innovate smart, simple to use, technical solutions so you can make more money, more easily with ArabClicks link tracking!
Summary
In conclusion, we hope this guide on how to earn money affiliate marketing with Link Tracking has been helpful to you. Tracking Links offer a great deal more power and flexibility than Tracking Coupons and are a great way to improve your affiliate marketing strategy.

Affiliate links also give you the option of working with a great deal more offers many of which pay higher commissions.
Just follow the step-by-step instructions in the article above, and you'll understand how Link Tracking works, where to find your affiliate links, and how to promote them in your channels.

You can also watch our set of 10 Videos on how to make more with tracking links
Or download ArabClicks' PDF – Earn More with Tracking Links 

What are you waiting for? Login & get started today!
And if you're not yet an ArabClicks Affiliate, sign up now!