When you first start affiliate marketing, you'll notice a lot of new industry-specific jargon thrown around that can leave you confused. From Advertiser through Commission, we at ArabClicks hope that part 1 of this mini-dictionary will cut through the confusion and help simplify some of the terms you'll see on our site.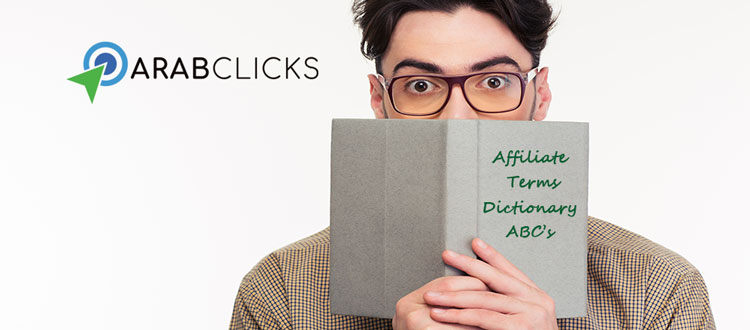 Let's start at the very beginning! This post will cover terms that start with A,B,C:
AdGroup

Also ArabClicks Display – A solution for optimizing banner ad space so only the highest converting offers show on your webpage.

Advertiser

The merchant who creates and/or sells the product. They can be big or small, local or worldwide companies. Popular ArabClicks advertisers include Noon, Emirates, GroupOn, Tajawal, Sprii, Sivvi and Faces.

Affiliate

A person (or group) who runs a social channel or owns a website, and earning commissions for sending leads or sales to an advertiser.

Affiliate Agreement

The Terms & Conditions that regulate the relationship between the affiliate and the advertiser – including commission amount and type.

Affiliate App

A piece of software specifically designed to assist with affiliate marketing activities on mobile devices. ArabClicks App for example – for ANDROID / IOS.

Affiliate ID

The unique ID number issued you when you sign up with an affiliate network. This ID will be a part of your affiliate links so your sales can be traced.

Affiliate Link

A unique web address that sends a customer to an advertiser's website and identifies the affiliate who sent them. These links are embedded in banners, text etc.

Affiliate Marketing

A profit sharing strategy where a website or social channel owner receives a commission for sending a lead or sale to an advertiser.

Affiliate Network

also Network. The party who mediates the advertiser/affiliate relationship. ArabClicks, an affiliate network, provides services to both affiliates and advertisers. 

Affiliate Tracking

Also Tracking. The record of clicks and conversions using an affiliate's unique link or discount code.

Analytics

A tool used by website or social channel owners to understand who and how many their visitors – and actions taken while visiting their site.

Animated GIF

A very short repeating animation often used for display or banner ads.

App-Based Offer

An affiliate program that is only valid for leads and sales made through the advertiser's mobile app.

Approval Rate

Percentage of sales with an advertiser that are validated. This indicates a low-product return rate.

Approval-Based Offer

An advertiser offer that requires special approval before an affiliates can promote it.

ArabClicks Network

The only affiliate network designed by and for Arabs. The network offers a full affiliate services in both Arabic and English and a palette of smart simple tech solutions so affiliates can make more money, more easily.

Banner Ad

A visual advertisement on a website featuring a website, product, or service. Banners can use still pictures, flash movies, or even animated GIFs.

Blog

A blog is a website made up of multiple chronological text entries. It can cover any topic the writer wants and include also photos, videos and other media. It's one of the best mediums for affiliate marketing.

Bonus

A sum of money an affiliate receives on top of their normal commissions for a special achievement like sending new customers, or winning a contest.

Brand Bidding

The practice of using an advertiser's trade name in an affiliate's paid advertising. This is forbidden by many affiliate programs, so always check the advertiser's terms and conditions before using such a marketing strategy.

Browser

A piece of software on a computer, tablet or phone used to access various web addresses.
Summary
We hope this post has helped you cut through some of the confusion that can arise when you hear various affiliate marketing terms. Keep a look out for the Affiliate Terms Dictionary Part 2!

Also, to learn more about affiliate marketing, check out our comprehensive Beginner's Guide to Affiliate Marketing – or check out our great videos and step-by-step guides.

Or simply sign up with ArabClicks and learn as you go!