ArabClicks' 2023 Guide – How to make money with your Telegram Channel
Learn how to earn money with Telegram groups! Get ArabClicks' Guide to Telegram for Affiliate Marketers 2023. Check out how you can make money with your Telegram Channel with just a small investment of time and effort. Our Telegram web marketing strategy offers you a dynamic marketing strategy in which you offer creative, entertaining or informative content directly to your channel – or another group's channel. Whenever your audience clicks your link or uses your coupon – you get paid! Use ArabClicks' expert tips for Telegram App to collect followers, provide those followers with valuable content and then optimize the relationship that you build with your followers to earn money.
Welcome to ArabClicks 2023 Guide to Telegram for Affiliate Marketers!
What is Telegram?
Telegram for Affiliate Marketers is a unique free messaging and communication application that allows you to send text messages, pictures, videos and other types of media. Once you connect Telegram to your personal phone number you will be able to share media with your contacts. You'll be able to send your messages and make phone calls as part of your Telegram web marketing strategy from any location that has a Wi-Fi or transmission network. You earn money with Telegram groups which you create and through those to which you subscribe.
You can download the app and make money with your Telegram channel for free on your smartphone, tablet or computer – in fact you can use it on all your devices.
Check out our expert tips for Telegram app to find out how you can maximize the Telegram platform to promote your affiliate marketing and influencer activities.
Telegram for Affiliate Marketers:
Why should you affiliate market on Telegram?
If you are an affiliate marketer, why should you work with Telegram? Telegram is a powerful platform for affiliate marketers and influencers who want to make money online. It's easy to make money with your Telegram channel and groups by using affiliate links that promote brands, products and services.
Check out ArabClicks' expert tips for Telegram App & design a Telegram web marketing strategy centered around these advantages:
1. Telegram is Free
Telegram is a free app. There are no subscription fees and no ads. Your free subscription gives you –
secured chats
video calls
audio calls
secret chats
self-destructing messages
encrypted backup
All Telegram features are available to the user for free and there are no hidden costs.
2. Telegram is Popular
Telegram is one of the world's most popular apps. It is especially popular in the Arab world which makes it the best platform for affiliates and influencers to make money.
Telegram is the top digital marketing app in the Arab world:
400 million active users around the world
15 billion messages sent daily world's most effective platform for direct communication, specifically in small and medium-sized groups
Messages go viral quickly as they spread within Telegram groups and from there, to Telegram channels.
3. Telegram Has Amazing Features
The features of the Telegram app make it the perfect platform for affiliate and influencer marketing. Users can not only create and share content through their own Telegram channel or group but can monetize its content as well.
Using Telegram for Affiliate Marketers you can refine your strategy to make money with your Telegram Channel and earn money with Telegram Groups. Telegram facilitates your ability to communicate with your subscribers and followers directly and effectively.
Understand the difference between Telegram Channels and Telegram Groups – and use these differences to your advantage.
Make money with your Telegram Channel
You can create a subscribable Telegram channel with an unlimited number of subscribers and communicate them by providing them with meaningful content. You'll find it's simple to effectively:
Promote affiliate products & services
Promote a newsletter where readers will find coupons and other valuable offers
Create a special Telegram channel for customers with special offers, rewards, incentives, discounts, etc.
Manage the Telegram channel
Automatically reply to incoming messages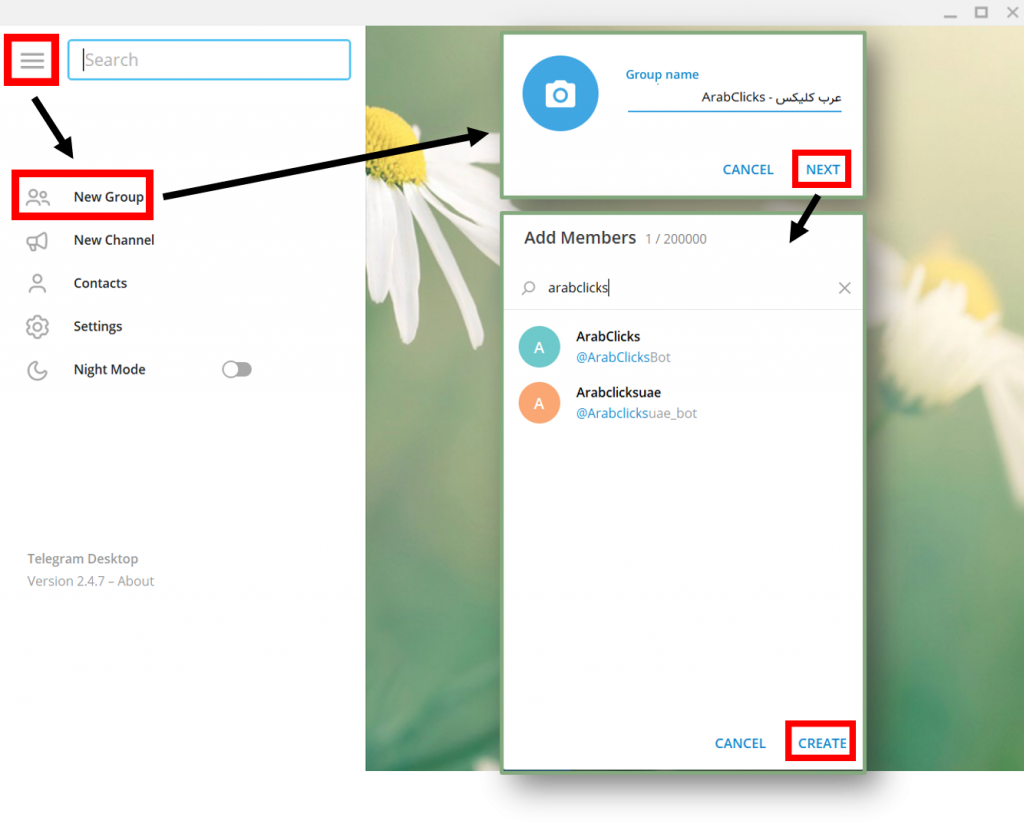 Earn money with Telegram Groups
You can also earn money with Telegram based on how you manage your content in a Group. Telegram Groups allow you to:
Create groups with up to 200,000 members
Subscribe to other interactive Telegram Groups in order to promote yourself and your content. Hashtags will convert text into clickable search words
Use the "mention" tool to specifically alert specific group members
Search the Telegram group's archives for archived content.
Whether you decide to focus on a Telegram Channel or Telegram Group – or both, you can use Telegram to:
Promote products & services
Promote top international products and services using your affiliate links and coupons, tracking links or referral links. Sign up with ArabClicks to get your affiliate tracking.
Create and share content
The Telegram Web marketing strategy involves providing you the ability to disseminate valuable content that meets the needs of your followers, influences them and motives them to take action.
Cloud storage services cache file management
Cloud storage and cache file management services lets you free up space on your devices. All of your content, designs, marketing plans, statistics and promotional materials remain available to you in the free cloud storage service.Read on – find expert tips for Telegram app that guide you as you share text, images and media files up to 2GB.
ArabClicks' 2023 Guide – How to make money with your Telegram Channel
Telegram for affiliate marketers is one of the best cutting edge ways in 2023 to make money online. Affiliate marketing involves the promotion of products/services in collaboration with special affiliate programs. Your unique, tracked affiliate links allow you to earn profits (either a percentage of the total value of the order or fixed profits – determined by the advertiser) on every successful sale/subscription that you facilitate via your affiliate link.
By sharing the affiliate link that you receive from the affiliate network with your Telegram groups or Telegram channel members, you'll drive sales and make money.
How to get started earning money with Telegram Groups and Channels
How can you start making money with Telegram in just 3 steps?
Create your own Telegram channel

To start affiliate marketing with Telegram, you must register for Telegram and set up a channel:

1️⃣ Create a New Channel: Click on the left of the screen to open the drop-down menu. Click "New Channel

2️⃣ Choose Channel Name: Choose a name for your channel. The channel name should be clear and reflect your message – but avoid anything having to do with an advertiser's brand name in English or Arabic – as most advertisers will ban you for this.  NO: 'VogaCloset Deals'. YES: 'TOP GCC Fashion Deals'

3️⃣ Add a Description: Something that describes the channel's content and message. You can use up to 255 characters. 

4️⃣ Select a Channel Image: Add an attractive image that expresses your channel's content or message. The image will need to be in a circular shape so make sure that the image that you choose fits well into that circle.
Specify Channel Type: Decide your channel's setting: "Public" or "Private."
– Public Telegram channels are channels that any user on the platform can find in a search and join. The username that you create will help searchers identify your channel's message/content
– Private Telegram channels are channels that are limited to users who can join via a special invitation that's sent to them by the channel's creator. Other users will not be able to see it in a search and cannot join it.

5️⃣ Make a Username: Pick your channel's username. The username should be clear and similar to the official channel name. You are allowed a username of 5-32 characters/numbers with no spaces. Private channels are assigned an automatically generated join-link and you can send that link to your contacts or share it with anyone that you want to invite to join your channel.

6️⃣ Add Contacts. You'll be able to add contacts from your phone, or search via username. You can also migrate users from other groups you are a part of by sending people an invite link. Anyone who has Telegram will be able to join your group by following this link.

Congrats – you made a Telegram Channel!





Create Content for your Telegram Channel

Once you choose the main topic for your Telegram channel you'll need to create valuable content for that channel. Then, you can start to make money with your Telegram Channel through affiliate marketing techniques.  

It's also important to think about how you present your content for Telegram. Have a look at other Telegram Channels and groups to see what you like better, and what you don't like as much.

Generally, Telegram posts use graphic/short content with lots of emojis to give the main ideas and important facts at a glance.

Also don't forget a compelling Call-To-Action and a link to the store page you want people to buy from. If you are working with Tracking Coupons – you can put a normal store link with your codes. If you're working with Tracking Links – you can paste it here!

You can also always follow ArabClicks Telegram Channel to get ideas from us – and many other sources also. 


💡 Get Started Posting in Telegram – Check out ArabClicks' expert tips for Telegram App:

Schedule Your Posts
You can create and send or schedule your posts right from within the Telegram web interface. Just right click the paper airplane icon and choose "Schedule Message" if you don't prefer to release your post right away

Choose Notification Style
If you want your followers to hear a notification when you post in your Channel or Group, toggle the bell shaped icon to the side of the blue paper airplane "Send" icon. You can also right click the "Send" icon and choose to send without sound.

Learn your Posting Options
Wish you could change a post after you've already sent it? Luckly, you can! Just right click the post and find many great options including "Edit". But that's not all! From this meny you can "Forward" a post to a private or public channel or group, "Reply" to a post, "Delete" your post or even "Pin" the post to the top of your channel. 

Sound easy? It is! Join Arabclicks now to start earning money as an affiliate marketer on Telegram!

To download the ArabClicks App, click here!



Promote Affiliate Products & Services on Telegram

Choose your affiliate programs carefully so that you have good brands and advertisers to promote – then place those affiliate links & coupons in your content and on your channel. The type of affiliate program that you join depends on your interests, knowledge and the topic about which you can create valuable content. That's the way to attract followers and earn money with Telegram groups. 

Finding the right affiliate program can be tricky but ArabClicks will take care of all of the mechanics of affiliate marketing. All you need to do is to create your content, post it on Telegram with your tracking links and coupons, and earn your commission.

Dig into ArabClicks resources – and identify + promote the affiliate programs that are right for you. ArabClicks's helpful PDF video guides take you through the processes of navigating payment policies, tracking affiliate orders, understanding  terms and conditions and more. 

ArabClicks is THE affiliate marketing network of the Arab world. The ArabClicks Team works hard to give you the tools you need to make money with your Telegram Channel. Expert tips for Telegram App:

■ Work with the BEST GCC/MENA advertiser offers 
■ Train with ArabClicks' Academy PDF guides & video guides 
■ Get help planning your timely marketing campaigns with ArabClicks updated marketing calendar 
■ Create content that will draw people to click  on your affiliate links
■ Access branded creative to drive more traffic
■ Find coupons, discount codes and special deals
■ See detailed reports so you can tweak your campaigns and improve your success rate

With the technical aspects of affiliate marketing taken care of, you can focus totally on your promotional and marketing activities. 

Once you have enough subscribers on your Telegram channel ArabClicks can approve you to start receiving special link offers and coupons for popular brands. Then, share these links & coupons with your followers as you  build your channel  and grow your affiliate marketing business.  

You can promote ArabClicks' affiliate offers through your Telegram channel quickly and effectively.  To make money with your Telegram channel, you need to promote products or services that are related to the content you create, that meet the needs of your followers, that pique subscribers' interests and that provide viewers with solutions.

As an affiliate marketer, you are promoting, but not directly selling the products/services. Followers can search and buy products themselves by going to the advertiser's direct link.

Your advantage is that, through the ArabClicks network, you are able to give your audience special ArabClicks coupons, promo codes and discounts so that they purchase the product/service at a lower cost than they could if they were to buy the product/service directly from the brand's website. By saving your followers money you become more valuable to them and, as they buy through your affiliate link, you earn money with Telegram groups. 

ArabClicks' Telegram web marketing strategy uses tracking links & coupons to ensure that your Telegram posts & messages pay you commissions from any purchases that are made through your marketing efforts.



How to Promote Coupons in your Telegram Channel

ArabClicks gives you tons of coupons, promo codes and discounts you can share with  your followers or subscribers.

You can see a sample Telegram post that features a 10% Noon Egypt coupon — one of our best offers ever.



💡 Promote Noon Egypt on Telegram – here are the steps to take:
1️⃣ Meet the minimum traffic requirements your Telegram channel
2️⃣ Request your Noon Egypt tracking coupon opy the tracking coupon code and paste it into content in your Telegram Channel post
3️⃣ Add a compelling image
4️⃣ Add LIVE sales from the Noon Egypt site
5️⃣ Make sure your tracking code is clearly marked in your content. Buyers will need to add the code to their order to get their discount – and so you receive your commission! 
6️⃣ Add a call to action



How to promote Tracking Links using your Telegram Channel

Tracking Links are a great way to make money with your Telegram Channel. Share the affiliate link that you got for the advertiser home page – or create product and brands links using the ArabClicks SmartLink Generator.  

You can also easily shorten both your default tracking links and your SmartLinks so that you don't display long, clumsy links on your channel. 

In the following illustration you can see how to make money with AliExpress links on Telegram. Use this link to send followers to theAliExpress homepage or landing page where your followers can find discounts of up to 60%.



Users click on the link where they can make their purchase – and you earn your commission! 

💡 To make money with AliExpress Links – follow these simple steps: 
1️⃣Request approval for the offer
2️⃣Use the default link or create SmartLinks to one of the landing pages found in the drop-down menu
3️⃣Copy the link 
4️⃣ Share your expert tips for Telegram App as part of a post which directs your followers to enjoy huge discounts by shopping on AliExpress
5️⃣ You will receive your commission on every purchase made within the "cookie validity period" – made from the time the buyer  clicked on the link.


Summary
We hope you enjoyed ArabClicks' 2023 guide to Telegram for Affiliate Marketers!!!!
Use a Telegram Channel just like any other social or messenger group to make money promoting advertiser products/services with your affiliate links & coupons!
To earn money with Telegram groups and channels, you simply need to sign up with ArabClicks, open a Telegram account – and start promoting valuable content.
More expert tips for Telegram App include optimizing your Telegram web marketing strategy to ensure your conversion rate is high and you make money on every sale.
Login to ArabClicks to get all the smart marketing tools you need to make money from Telegram.

Or for a mobile-only money making strategy, try ArabClicks' App.


Frequently Asked Questions
Q: What is the best way to make money from Telegram in 2023?
A: The best way to make money from Telegram right now is affiliate marketing through ArabClicks affiliate network.

We help website publishers, bloggers, app developers, and influencers earn money online through CPA, CPS & CPL marketing. Through ArabClicks you can access coupon & link offers that you can then offer to your followers to get them to click on your links so that you earn the commissions! ArabClicks also provides expert training for beginners and advanced marketers along with relevant marketing insights and tools so that you can make money with your Telegram channel and groups – Telegram Web marketing strategy. SIGN UP NOW and start earning TODAY!
Q: How do get started earning money with Telegram groups and channels?
A: To create Telegram Channels or Telegram Groups, you need to register for Telegram and download the Telegram app on your device. You will use your phone number as your contact. Then you can create your own Telegram channel (look in the article above for more detailed instructions) article).
Q: Which is better: Telegram or WhatsApp?
A: Whatsapp is more widely-used worldwide but Telegram is favored by much of the Arab world. Telegram was specifically designed to meet the needs of digital marketers who find the Telegram web marketing strategy to be the easiest and most effective method for running digital marketing campaigns.  Some reasons that Telegram for affiliate marketers is seen as  the communication app of choice include:

1. The Telegram application is based on the cloud and doesn't require that smartphones be synced at all times. 
2. Telegram allows you to create Telegram groups with up to 200,000 members (compared to 256 on WhatsApp). There are also options to create public or private Telegram channels with an unlimited number of subscribers. 
3. With Telegram you can use cloud storage services and manage temporary files to free up space on your device
4. Using the Telegram app you can send files of up to 2 GB and compress files to send them faster
5. Telegram gives you options to use AI chatbots  – so your followers get more interaction – with less effort from you!
Q: How Do Telegram channels help me make money in 2023?
A: Using your Telegram channels you can make money by promoting products and services to large numbers of subscribers. Expert tips for Telegram App include affiliate links and tracking coupons to your posts so that your sales pay you commission!

LOGIN to ARABCLICKS and go to the "Best Coupons and Deals Page" where you'll find advertisers' best coupon offers to gift to your followers. You could start earning money as soon as TODAY!
Q: How do I promote my Telegram channel to get more subscribers?
A: Expert tips for Telegram App suggest that you promote your Telegram channel link and your other Telegram groups and channels via social media platforms, websites, blogs, and mailing lists. You can also invite users of other platforms to subscribe to your channel.

If you have a marketing budget we suggest you use a modest amount to take out paid ads on social media platforms and search engines. Signup or LOGIN to ArabClicksto set up your Telegram channels and start creating a Telegram web marketing strategy TODAY.