Make More with Affiliate Marketing in Ramadan & Eid al Fitr 2022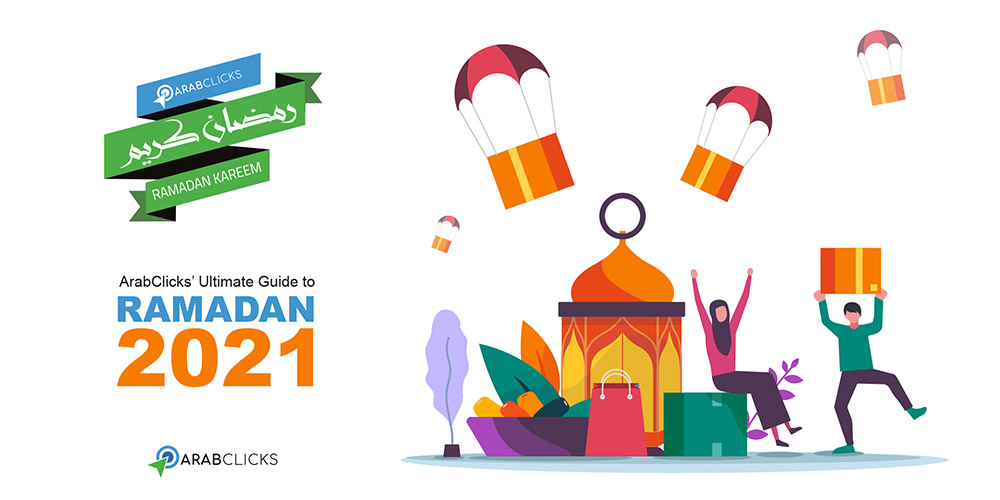 Ramadan 2022 and Eid al Fitr 2022 are here- with amazing opportunities to earn from increases in online time, purchases and huge sales and discounts that are happening all season long. Here is our Ramadan Affiliate Marketing Guide. Read on for the Ramadan 2022 purchasing trends plus Ramadan and Eid al Fitr marketing strategies. Find out the best Ramadan 2022 products categories and stores and get the top Ramadan 2022 coupons and deals.

You can also download our latest Ramadan PDF Guide HERE

In order to earn with ArabClicks' Ramadan 2022 Affiliate Marketing Guide – as always, you simply have to give your audience what they need. You'll earn when you satisfy their desires and interests, make them happier, focus on their celebrations and speak to values you both share.

But you may be wondering – what will you give them? What interests them? What are their needs? What are they looking for? What do they buy, when do they buy, where do they buy from and how do they buy?

Find inside this guide – the latest holy month strategies for making money with affiliate and digital marketing, which are the most profitable Ramadan 2022 offers, categories and products to promote, the times when buying activity is at its peak. You'll also find out where to find lots and lots of Ramadan 2022 coupons and deals to share with your followers and site visitors.

Will Ramadan 2022 Affiliate Marketing be more profitable than other months?
Now is the best time to develop your Ramadan 2022 affiliate marketing strategy.

There are bigger opportunities to earn because the best brands will be holding big sales to attract the larger volumes of people who will be present online and gain the attention of core internet users who will also spend a higher percentage of their time online during Ramadan.

Did you know that 82% of those who celebrate the holy month of Ramadan (1.5 billion) will work less hours, so they will spend more time on the internet, and that 40% of them plan to spend more in Ramadan 2022 than in a normal month?

Over 53% of Ramadan shoppers actually do end up spending more in Ramadan so now is the perfect time for sharing Ramadan 2022 Coupons.
The Best Ramadan and Eid al Fitr Marketing Strategies
When looking forward to an entire season of increased promotional activities, you'll need to create a marketing strategy and plan. Earn the most money by sharing relevant and timely sales and offers with the larger amounts of traffic your channel will surely see.

It is important that your marketing and promotional strategy for Ramadan 2022 be based on your audiences, their interests and their specific behaviors.

We bring you Ramadan and Eid al Fitr marketing strategies – general stats, tips, information and data to help you set your overall trajectory.

But it is your personal channel – your themes, audience needs, what has worked for you in the past, and what your audience has requested in future that should be the most meaningful to you in determining the goals of your promotions.
Ramadan 2022 Purchase Trends
We start with some surprising statistics about the buying behavior of online shoppers in Ramadan season compared to an ordinary day in the world of online shopping:
Google Searches up 59% – The use of search engines (Google etc.) to search for products or services for immediate purchase increases by at least 59%.
75% More Traffic – The traffic from visitors to online shopping sites increases by 75%.
Sales increase by 128% – Online retail stores see their sales rise by more than 128%.
Ramadan ads achieve 94% more conversions – the percentage of sales that Ramadan advertisements achieve on social media increases by 94%.
As you can see, a change in online consumer behavior is the common element in all these Ramadan trends.
So who is doing the purchasing? Stats tell us that 58% of Ramadan purchasers are women, while only 42% of Ramadan purchases are made by men.
Sales growth during Ramadan and Eid is a result of increased average consumer financial spending, since consumers have special purchases and put more meaning behind their purchases during the holy month.
The Ramadan consumer is also comparing prices on products and services, knowing that there are many Ramadan offers from different advertisers with similar types of products and services.
See the following statistics about the Ramadan consumer:
40% are looking for Ramadan offers
49% are looking for Ramadan discounts or coupons
40% are trying to buy the items they need at the cheapest price
while 60% are looking for name brands
And a full 83% (some from each category is open to trying new brands and products.
As an affiliate marketer, you should first know your audience and which stores and types of offers will appeal to them. See ArabClicks' hundreds of advertiser offers.

Then, you should promote timely discounts and sales at these stores to your audience. Luckly, we have your back. Get the best coupons and deals available during Ramadan here
Keep reading for ArabClicks' Ramadan & Eid 2022 Calendar. Find out which Ramadan 2022 products categories and stores will have the sales volume.

This way, you'll know which products and offers you should promote before, during and after Ramadan.

The Ramadan 2022 season is a great time to grow your organic reach, attract new customers, direct traffic to your site visitors or channels, and increase your number of conversions!
Sales Increases for Ramadan & Eid 2022
The Ramadan season is seeing growth in all online sales, but some categories expect more growth and consumer demand than others during Ramadan and Eid al Fitr 2022.

Last year, consumer electronics such as smartphones, tablets and electronic accessories saw 148% increase in sales during Ramadan, the highest sales growth of any category.

Wrist watches sold 115% more than usual, and home and living products saw an increase of 114%. Last, but definitely not least, fashion purchases went up by 95%.

Hot Tip: Share Ramadan 2022 Coupons on these items & earn!
Ramadan 2022 Calendar – what to promote & when
There is a direct relationship between 4 distinct parts of the Ramadan season, and what consumers are looking to buy at that moment.

Understand what people are looking for when, so your promotions will appeal to them.

Here are the most important predictions of the Ramadan 2022 & Eid al Fitr season, divided into the following 4 time periods:
Pre- Ramadan 2022 Purchasing Trends
During this period, consumers prepare for a long season of family gatherings, home visits for Iftar and Suhoor meals.

Traditionally, the pre-Ramadan period sees a growth in sales of home decor, table and serving wear, and comfortable, flowing Ramadan fashion in both traditional and modern styles.

This year, because of CoronaVirus, Ramadan 2020 celebrants are already working less and in school less hours, so they're already tuned into the things they'll need to spend the next two months at home.
As such, we expect to see even steeper than predicted growth in electronics sales, sales of TVs, laptops, games and gaming systems, and home and kitchen appliances that will make home maintenance and Ramadan food prep easier.

This year, in pre -Ramadan 2022, promote:
Food and Pantry
Home & Kitchen Appliances & Accessories
Home Decor
Audio, video and consumer electronics devices
Fashion for the whole family
Cosmetics and perfumes
Home Fragrances

For a full list of available brands, check here.
Are you an ArabClicks affiliate? Get your Ramadan 2022 Coupons

2. First half of Ramadan 2022 Purchasing Trends
At this point, consumers are excited about the beginning of Ramadan and cook elaborate Iftar meals, host lots, and are guests at lots of meals.

All the while there is an intense focus on spirituality & some struggle with transition to a fasting lifestyle.

Furthermore, week 2 of Ramadan is the first of two weeks of sales peaks. So take advantage of the upsurge in purchasing and promote kitchen appliances, grocery delivery, modest fashion, spiritual books & accessories, and health supplements to help with fasting.

Best Ramadan 2022 products categories to promote in Weeks 1 & 2:
Kitchen Appliances
Food Delivery
Modest Fashion
Spiritual Books & Accessories
For a full list ArabClicks offers, check here.
Are you an ArabClicks affiliate? Get your Ramadan 2022 Coupons
3. Last half of Ramadan 2022 Purchasing Trends
This half of Ramadan 2022 starts week 3 of Ramadan, when online shopping will already be at its peak.

These tremendous sales and spending will begin to decline sharply after the end of week 3 through the last days of Ramadan 2020 before Eid al Fitr.


During this period, people are tired of cooking so they want to go out for Iftar to restaurants (demand for takeout will only increase if CoronaVirus continues)

Also, the fast is hard on the body so people want to make themselves look sharper, and people are focussed on buying their friends and family gifts for Eid al Fitr 2020 (especially watches, jewellry and home appliances.

Promote these Ramadan 2022 products categories and stores in weeks 3 & 4:
Restaurants
Cosmetics & Grooming
Various gifts in preparation for Eid

For a full list of available brands, check here.
Are you an ArabClicks affiliate? Get your Ramadan 2022 Coupons
4. Eid Al-Fitr
Although the days leading up to Eid al Fitr are declining, sales increase sharply during Eid al Fitr – and many affiliates will have stopped their Ramadan promotions. Continue to promote and you'll rake in all the conversions on:
Restaurants
Consumer electronics
Home appliances
Last Minute Gifts
For full list of available brands, check here.
Are you an ArabClicks affiliate? Get your Ramadan 2022 Coupons


Here are some more Ramadan 2022 Purchasing Trends:
10 Ways to Increase Your Blessings in Ramadan & Eid al Fitr 2022
Start Early. And check our calendar each week to find out what to promote.
We divide the season into 4 distinct buying periods and tell you just what advertisers and categories to promote – and why.


Check Your Watch. Ramadan 2022 purchasing trends will include food purchases during daytime hours – peaking 2 hours before Iftar. This is a great time to promote groceries and food delivery offers.
After 9pm, all other purchases surge, peaking at 3am. Promote using Social during this time for an extra boost, since Facebook sees a 200% increase in visits between 2-5 am.


Save Them a Search. Share recipes, Iftar/Suhoor times and seasonal videos – so that your users engage with you and your channel – instead of leaving you to search the web.
Give them what they're looking for on the internet and chances when it comes time to make a purchase, your channel will already be top-of-mind.


Make a Video – Take advantage of 300% increase in YouTube views.
ֿEngage your audience with long-form video content that teaches them something or gives them tips and tricks. Or entertain them with a story or a song.


Remarket – Do you have a way to contact your audience on Facebook & Instagram? On your website and by email? From YouTube and WhatsApp?
Reach your audience from 2+ platforms & sell 80% more.


Extend Your Reach – Consider paid campaigns during Ramadan.
Many top affiliates find that carefully budgeted paid campaigns on Google, Facebook & Instagram or Twitter increase their volume of the right kind of traffic and help them grow their bottom line.


Give to Charity – Sell more when you contribute a percentage of your earnings.
This is a great way to connect with your audience where they are, and share the spirit of Ramadan together. You can encourage them to give charity themselves, or even better, let them know that when they buy with your affiliate links and coupons, a portion of the proceeds automatically is donated.


Promote High Priced Products – Get big CPS commissions. Nuff said.


Don't Rush to Stop – Eid brings lots more sales & discounts – keep promoting & earn.
Many affiliates stop promoting after Ramadan, but miss out on the big Eid al Fitr sales. Keep promoting gifts, electronics, appliances & restaurants and you'll rake in a lion's-share of conversions.
Get your Ramadan 2022 coupons & deals here.


Collect Emails. Remarket to the same shoppers for Eid al-Adha starting mid-July.
The same followers who are celebrating Ramadan and making lots of purchases will be doing it again later in the year. Save yourself lots of work then by creating your lists now.
Summary – Ramadan 2022 Affiliate Marketing Guide
Ramadan and Eid al Fitr marketing is a marathon that runs from the second of April to the last days of May. Make your digital marketing & promotional strategy as broad as possible, and adjustable, so you can pivot if necessary to achieve the optimal campaign results.

Remember to make your Ramadan and Eid al Fitr marketing strategy custom tailored to the types of people in your audience.

Create unique materials directed to the Ramadan 2022 products categories and stores favored by each specific group.

Another great Ramadan 2022 affiliate marketing tip is to create a custom logo for the season & otherwise decorate your channel.
But most importantly, be present with your audience during the Ramadan 2022 season and express your values, celebrate together, and show them how much you really want the best for them. This way, you'll build trust and your bottom line will increase!

We hope you enjoyed our Ramadan 2022 Affiliate Marketing Guide & Eid al Fitr Marketing tips.
For more Ramadan purchasing trends and Ramadan products categories and stores, check out our latest PDF guide here.
Also, read our NEW Guides and explore & use our NEW Tools for Ramadan to optimize you campaigns & promotions:
Also don't forget to share the best Ramadan 2022 Coupons and Deals with your audience.

If you've been waiting for your chance to start earning money online – TODAY is the day.
Join ArabClicks NOW