Update your Ramadan affiliate marketing strategy for 2023!
Read on for 9 timely trends to earn money online in Ramadan 2023!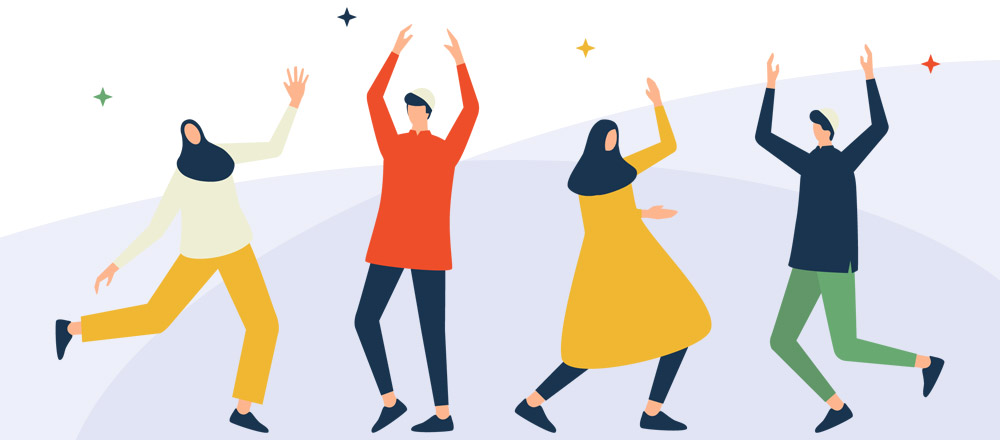 Make Ramadan 2023 your BEST ever! Optimize Your Ramadan Affiliate Marketing with ArabClicks' trade secrets of 9 breakout tips! Grab your opportunity to make big time profits & earn money online in Ramadan from your channels & audiences. Now is the perfect timing to give your Ramadan marketing campaigns a boost. Get in tune with what your audiences want & need during the holy month, especially when so many work from home jobs in Corona. Learn more about the latest Ramadan Marketing Strategy in ArabClicks Ultimate Guide to Ramadan 2023 and get further information in this article…
This article will tell you about the impact of COVID-19 effect on online shopping and how you, as an affiliate marketer, can reap the benefits of Ramadan 2023 online purchasing – that is going to be BIGGER than ever. The new Corona outlook on online shopping will certainly influence how to best create your most effective Ramadan marketing strategy.
Learn what you can do to make your Ramadan marketing campaigns super-attractive, taking maximum advantage of those people who work from home jobs in Corona and shop online frequently. Ramadan affiliate marketing is about to get really exciting & profitable with the ArabClicks ultimate plan to optimize your Ramadan affiliate marketing strategy.
HOT News! ArabClicks' 9 Top Trends that are HOT RIGHT NOW:
Food is IN
Promote online grocery shopping, restaurant delivery & latest kitchen appliances
Fitness is FUN
Share exercise gear or health supplements that appeal to your fans stand-out style with an affiliate link or code!
Local is TRENDY
Push local brands per neighborhood. Boost your channels as a trusted authority with your audience & see your sales increase!
Personal Improvement pays off
Support your high achieving audiences with products & tools to help them reach their work & lifestyle goals
Entertainment is UP
At Ramadan audiences have more free time for entertainment & screen watching. Push TVs, Video Games and Streaming Services
Online Community TODAY
Give your followers a sense of community & support to keep them coming back ! Help them out with Covid-19 information help
Spirituality & Community
Muslim app searches rise by 1860% during Ramadan.YouTube & Google 'donations & charity' searches peak now. Show your people where to look for Islamic education & religious content
Sell Lifestyle
60% of all online purchases made during Ramadan branch out from everyday requirements. Diversify! Promote products that reflect Ramadan lifestyle searches & specific Ramadan sentiments
Try Paid Ads
Audiences appreciate getting the best lowdown on deals & great products via your PAID advertising during Ramadan. Try paid ads this Ramadan & earn more!
PLUS get the lowdown on how to attain great cash earnings when so many of your audience work from home jobs in Corona & shop more online!
Keep updated with the BEST & latest Ramadan marketing strategy to ensure you are in step with all the Ramadan affiliate marketing trends & cash smashing profits!

💡 Read the 2021 PDF Ramadan Guide
9 HOT TIPS: Ramadan 2021 Marketing Strategy
Optimize Your Ramadan Affiliate Marketing! Read on for 9 timely tips to earn money online in Ramadan 2023!
Now is the time to learn ArabClicks' Trade Secrets!
Get ready to give your followers the very BEST in Ramadan affiliate marketing advice. Show them how to make great purchasing choices on all the bargains they are looking for and you'll earn money online in Ramadan with growth in your traffic and sales!

Take advantage of people who work from home jobs in Corona & have more time to go online & browse for their top shopping picks & savings.
Deliver to your audiences the strongest offers, coupons & discounts. Use your most attractive tracking links to all the top savings in their chosen products.
Make your channels super popular & reflect the spirit of the Ramadan month, while so many people work from home jobs in Corona & are looking to connect.
Follow our ArabClicks' 9 top tips for Ramadan marketing strategy to ensure that work from home jobs in Corona affiliate marketing really pays!
Food is IN
The holy month of Ramadan is the pinnacle of the Islamic year. A time of introspection & fasting. It is also the time when family and friends gather to celebrate together pre-fast breakfasts & Iftar meals.
The amazing feeling of the coming together of family & friends during Ramadan Iftar, means that households are looking for great ways to prepare delicious foods & culinary treats.
Therefore the focus at this time is very much on food preparation & everything related to online food purchases.
Online searches during this period are especially strong when customers are browsing for great deals on grocery shopping, savings on home supplies, new recipes & tips for preparing delicious dishes.In addition, the Covid-19 Pandemic has led to an increase in online food shopping, for both safety & convenience. More & more people work from home jobs in Corona & have time to browse for the perfect purchase.

Create an affiliate Ramadan marketing strategy in 2023 that builds upon current needs of home catering, especially during the Ramadan season.
💡 Earn money online in Ramadan with food!
Make your channels relevant & attractive by promoting top deals & coupons on:
Groceries
Specialist foods
Household supplies
Recipe Apps
Food ordering Apps
Kitchen supplies
Kitchen equipment
Tableware
Fitness is FUN!
Ramadan can be challenging for keeping in shape & maintaining fitness, with more lazy recreational time & all of those amazing Iftar meals & festive delicacies. Plus, of course, there are more people who now work from home jobs in Corona & even more so during Ramadan. Lots more couch potatoes around!
Consequently there is a real increase in awareness of the importance of exercise & healthy eating during Ramadan. This rise in interest can be seen in the shopping & search stats for Ramadan 2020 which showed an unprecedented 115% increase in browsing for exercise & fitness equipment, health supplements & vitamins.
💡 Earn money online in Ramadan with Fitness!
Upgrade your Ramadan marketing strategy to include ideas that promote fitness products your audience will love. Share content on social media during the holy month with the best promotional deals & your tracking links or coupons on:
Home gym equipment
Fitness trackers
Sports shoes & sports clothes
Nutritional supplements & vitamins
Health & Organic foods
Mindfulness & meditation tools
Local Is Trendy!
It's true! Your followers tend to trust well-known local brands. Although shoppers make so many of their online purchases with global shopping sites, they often still prefer & place their trust in known local brands. Products that offer local flavor to suit specific regional tastes.
💡 Earn money online in Ramadan by developing & strengthening a localised Ramadan marketing strategy for 2023
Go ahead, place your hard earned channel good name & authority by promoting trusted localised brands. Build upon the relationship you have established with your audience – emphasize the well tried products from their local shops offering deals suited to their shopping habits & neighborhood Ramadan festivities.

Take into account that many people work from home jobs in Corona & are looking for familiar comforts. Boost your followers confidence in your choices.

What a win/win Ramadan marketing strategy!

You can double the number of your conversions, the customer will get a product they are familiar with & local online shops receive much needed support. You'll gain a customer relationship based upon quality recommendations & enjoy ultimate top sales! Make the most of work from home jobs in Corona, keep your audience in neighborhood online shops!
Personal Improvement pays off
Self-development is is a trending feature of Ramadan 2023!

Personal improvement has become a hot topic as audiences are looking for fresh learning opportunities & online tools to acquire new skills. Many take advantage of the Ramadan holidays & reduced workload to develop their professional & educational levels. The search online during Ramadan for educational & professional courses, including courses with accredited certificates, to deepen skills & possible professional career options increased by over 300% last year alone & is expected to rise!
Double your chances to earn money online in Ramadan, find the most powerful affiliate programs for online education & personal improvement.
💡 Promote exceptional educational products with your Ramadan marketing campaigns that will satisfy the aspirations for self-development among your audience, especially those who currently work from home jobs in Corona.
Support your followers, during the holy month of Ramadan who are looking to better themselves, acquire new knowledge, improve their lives & lifestyle goals. They will thank you.
Entertainment is UP
The month of Ramadan is a long season. In addition to prayers & religious congregations, there is still plenty of time for those lovers of screen entertainment to look for something great to watch or play a video game during their recreational time. Don't tell anyone but even those who work from home jobs in Corona love to play a video game or watch a show in their downtime.
Stats show that search results for screen entertainment last year was up during Ramadan by 60%, Podcast searches rose by 92% & App downloads went up by 37%.
Ramadan 2023 will be even bigger! What an opportunity to become a great resource, promote to your followers the best in home entertainment solutions.
Create a Ramadan affiliate marketing strategy that delivers the best in offers & savings for the savvy home entertainment shopper.
Focus your Ramadan marketing campaigns on Ramadan themed podcasts, that so many people love & appreciate. Share the news of all the new Ramadan television dramas with Online Screening Services, or simply share details of fun & exciting video games, plus provide solutions for pocket saving technologies for home entertainment systems.
💡 Earn money online in Ramadan and promote the best deals on:
Gaming consoles
Televisions & Smart TVs
Live Streaming Services
Popular social media platforms offering high quality podcasts
Be sure to include all the hottest coupons and deals!
Sell Lifestyle
Given that more than 60% of Ramadan purchases are made online, it is an ideal opportunity to diversify & promote a mixed bag of products that meet the varied needs of your followers. Take into account that more than ever work from home jobs in Corona & are online frequently.
💡 Earn money online in Ramadan from a wider commission base – diversify your product options & categories you promote as part of your new Ramadan marketing strategy. Pick products that fit into your interests & answer the Ramadan shopping requirements of your followers.

Make the lifestyle choices of online shopping part of your successful Ramadan affiliate marketing plans.Enjoy the profits of Ramadan 2023 growth in online shopping with an increase in spending by more than 64% & a huge growth in discount offers – up by 128%.
Online Community
Keep your followers coming back! Become more than just a channel for shopping & discounts. Create a community that has added value for your followers.
Give your audience a sense of community belonging, a place that offers support, advice & valued interaction. So many now work from home jobs in Corona experiencing a sense of isolation. Help them out, communicate often & provide Covid-19 information with other community messaging to bring people together.
Religious Connection
Ramadan is the season when people are especially looking for a spiritual & community connection. A connection in which they can strengthen their feeling of belonging & sense of religious community affiliation.

The Covid-19 pandemic with consequent need for social distancing, has affected our ability to congregate in mosques for prayers, even limited the participation in family or community Iftars during Ramadan 2023. Therefore many of your audience will be looking for religious content online, especially those who work from home jobs in Corona.
It's pretty unbelievable that Muslim app searches over these last months have gone up by over 1860% and YouTube & Google 'donations & charity' searches have also reached an all time HIGH.

Get in tune with community needs to create sensitive, supportive Ramadan marketing campaigns that place connecting people with excellent online Islamic religious sources & community charitable programs. Become part of an opportunity to contribute to community solidarity this Ramadan. Make this an important benefit to help those who need to work from home jobs in Corona.
Promote as your part of your Ramadan Marketing Strategy:
Religious online content
Religious Educational Apps
Volunteering frameworks
Local charitable activities
Try Paid Ads
Ramadan is the time when online shoppers will be looking for the best in paid ads that will deliver all the information & top deals for their savvy Ramadan purchases. A great Paid Ad should offer immediate solutions & convenient links, provide messaging that is compatible with what your audience needs.
Upgrading your Ramadan arketing campaigns with paid advertising is ultimately financially worthwhile with the tremendous growth in online shopping over the Ramadan season. This is true across all search engines & social media platforms.

ArabClicks recommends that you include paid advertising campaigns in your Ramadan affiliate marketing strategy for 2023. Acquire new successful marketing methods to compete with the unrivalled rise by 75% of Ramadan traffic. Spend your budget on clever paid ads on social media which can increase traffic by 94%!
Set your Ramadan affiliate marketing budget & watch out for an amazing return on your investment :
make money from work at home jobs during Corona and earn money online in Ramadan with top Paid Ads. Learn more here
Get the Ultimate Ramadan Guide for 2023 for all YOUR TOP TIPS!

To sum up- here's your path to successfully earn money online in Ramadan…
Ramadan 2023 is the perfect time of the year to upgrade your current Ramadan marketing campaigns & kick off a brand new exciting Ramadan marketing strategy.
START RIGHT NOW – adjust & improve your performance at multiple points throughout the holy month in order to earn money online in Ramadan.
Get in tune with people who work from home jobs in Corona & are online constantly throughout the day.
We have provided you with our SUPER 9 Ramadan Affiliate Marketing tips.
Our ArabClicks top Ramadan marketing strategy will ensure you improve your marketing, promotional performance, enhance your online presence, stay competitive & make more money, especially from people who work from home jobs in Corona.
Create your Ultimate Ramadan affiliate marketing plan around our Top 9 Tips :
Food is IN
Fitness is FUN
Entertainment is UP
Local is TRENDY
Community Connection
Personal Improvement is IN
Sell Lifestyle
Religious & Spiritual Connectivity
Try Paid Ads
The final word…
Get a head start with your Affiliate marketing strategy in Ramadan 2023 as much as a month or two before the start of Ramadan. Did you know that 20% of Ramadan shoppers make their major Ramadan purchases before the beginning of the holy month? This leaves 80% of purchases during the actual holy month!

However, more than 83% of Ramadan shoppers planned their purchasing decisions before the fasting period so it's really important to push those big commission items as soon as possible before the special month.

Shoppers will frequent online sites more now than ever because so many are finding themselves at work from home jobs in Corona times – so plan your campaigns early so when those 'tired days' of Ramadan come, your marketing campaigns will still be going strong right up through Eid al Fitr 2023.
Get in on THE BIG PROFITS-
Read Our ArabClicks' Ultimate Ramadan 2023 Guide
PLUS:
Update your Ramadan affiliate marketing strategy using this article's 9 timely trends to earn money online in Ramadan 2023:
Learn how to target your content in Ramadan 2023with ArabClicks NEW article: Target Your Content in Ramadan
Don't miss our new Ramadan Deals Calendar – a calendar view of ArabClicks' hottest live coupons & sales, updated in real-time
And our Ramadan Insights Page – marketing calendars, brand insights, advertiser bonuses & more!
Sign in ArabClicks now to get the most powerful Ramadan tracking coupons, tracking links and deal offers to promote in your channels

or

JOIN Now to start making money from Affiliate Marketing in Ramadan 2023
Ramadan Kareem to all!
FAQ
Q: What are the best digital marketing strategies during Ramadan?
A: Earn money online in Ramadan by sharing relevant, timely sales offers for the larger amounts of traffic your channel will see. Online shopping will increase now especially since there are currently so many who work from home jobs in Corona.

It is vital that your Ramadan affiliate marketing & promotional strategy for Ramadan 2023 be based upon the interests of your audiences & their specific behaviors. Understand what people are looking for, & when, so that your promotions will appeal. Promote the right product at the right time.

Focus upon the key categories that are trending & will earn you money online in Ramadan:
– Food & Food Delivery
– Health & Fitness
– Entertainment
– Religious Content
– & more

For maximum impact, the best times to post on social media during Ramadan are in the hours before and after breakfast, & the hours of midnight until dawn.
The best time to schedule posts on Facebook is three in the morning!
These are the Ramadan social media surge hours that will lead to the best engagement & traffic.
Q: Do sales and traffic rise during and after Ramadan?
A: Yes very much so & this year, more than ever, you can earn money online in Ramadan due to the Coronavirus effect with so many who work from home jobs in Corona.

Take a look at the stats of shopping growth over Ramadan:
+128% Online Sales
+75% Site Visitors
+37% Shopping Searches
+13% App Installs
Increased online purchasing
GCC shoppers = 65%+
80%+ expected in 2021!
Q: Why do you need a Ramadan Marketing Strategy?
A: There is a lot of competition out there for the attention of the Ramadan online shopper. Your perfect promotions need to be cleverly targeted with the most trending products & best affiliate coupon deals & savings. Your strategy needs to be pre planned and thoughtful. Create for yourself a Ramadan marketing strategy that combines the BEST products with Ramadan traditional sentiments, trustworthiness, shared cultural value & also some fun humor.
Q:What is the best way to earn money online in Ramadan?
A: Create an exciting Ramadan affiliate strategy. Take advantage of the increase of site visits & Ramadan purchases. Push products that your audience will love. Add into your promotions great coupon deals & sales. Find out what is trending & local, promote what your customers know and trust. Start your Ramadan marketing campaigns early & continue throughout the month right up to Eid Al Fitr.
Q: What work from home jobs in Corona are trending in Ramadan 2023?
A: The Coronavirus pandemic has made work from home jobs in many cases a necessity for safety & social distancing, but remote working has also become trendy & attractive. All online work, including hi-tech or IT projects can certainly be carried out effectively remotely, with no need to travel into an office. Affiliate Marketing is also the perfect combination of a work from home job in Corona that is both convenient & profitable. Yes you can make money during Corona!
Q: How can I create the best Ramadan ADs?
A: Plan for your Ramadan affiliate marketing strategy Ads that use the Social Media platform you are most comfortable with – such as Facebook, Instagram, Twitter, Snapchat, YouTube & others. Plan some video posts that will boost your appeal & income this Ramadan 2023.
Use our Arabclicks' Guides on all top social media Ads platforms. Read also our Google Ads tutorial to get the best outreach & results for your budget.
Q.What are the best messages to use in your Ramadan marketing campaigns?
A: Ramadan messaging should reflect the special time of year. Share content of family values & community togetherness. Emphasize values of gratitude, compassion, & community as an underlying message throughout your Ramadan content. It is also recommended to mention the value of frugality, the importance of saving money & budgeting resources – so that your offers & money saving tips will be gratefully accepted. Speak with compassion identity & humor – your audience will listen!