Don't let the crisis get you down – make even more money in 2023 Affiliate Marketing for Covid-19!
CoronaVirus has changed public life in many ways. One of these changes is a broadening of the use of online shopping as a precaution to counter the spread of the virus. Affiliate marketing contributes to meeting consumers' needs by making the products and services they need more accessible – and by saving them money!
All of us in the affiliate marketing world are fully aware of the events of the Coronavirus outbreak and its implications for daily life. We might have spent significant time over the last weeks studying the Coronavirus map, reading up on a possible Coronavirus vaccine or searching for KSA or Dubai Coronavirus updates. Surely many of us have even asked if Coronavirus is airborne (for those of you still wondering, it's not.)

That said, every cloud has its silver lining, and despite the strict precautions taken by countries in the face of the Coronavirus, the retail sector over the Internet has witnessed remarkable growth in sales. As the crisis worsened, countries took preventive measures that obligated people to quarantine and stay at home, suspending all aspects of work, study, and services, entertainment, shopping, hiking and travel.
In light of these changes, people have turned to the living digital world, specifically to electronic stores and social media platforms.
The needs of consumers did not stop with the disappearance of public life, but rather the challenge became how to meet these needs without endangering their lives and negating preventive measures.

The solution was online shopping – specifically shipping and home delivery services provided by online retail stores. Governments sought solutions to bringing services to its citizens that were not based on direct interaction and human exchange. So it was the governments themselves that turned to online vendors to move to provide services to meet the needs of consumers in the face of this crisis.
As a result, all market indicators currently indicate an increase in the demand for online retail stores' delivered goods in order to respond to the crisis and meet the needs of consumers. This has led to an increased demand for digital marketing to help consumers discover vendors who can provide these basic services – and compare between them.

Of course, this also culminated in an increase in sales – and for affiliate marketers, this means commissions.
As the KSA and Dubai Coronavirus crisis continues – growth in the world of digital marketing will only continue to increase, as consumers look not only to meeting their basic needs, but to increasing their quality of life and keeping themselves fed, fit and entertained during quarantine.
As an affiliate marketer, you can directly help to create a different kind of Coronavirus map – by helping your audience find and compare a broad range of solutions to meet their basic, health, fitness and holiday needs – and by helping them get discounts on all of the above.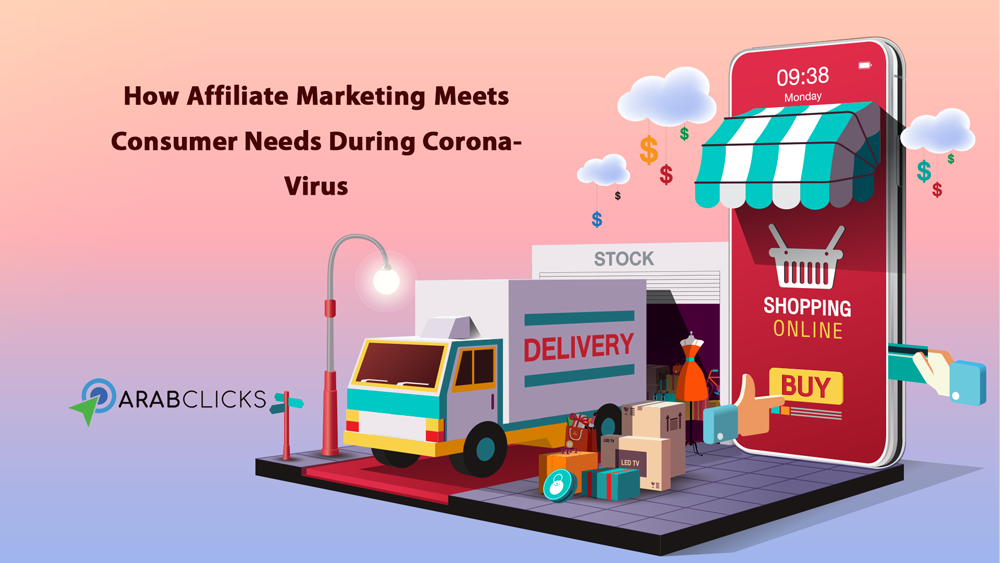 Consumer Behavior During Corona Virus and Quarantine
As mentioned earlier, government actions to prevent the spread of Coronavirus in Dubai and UAE as well as KSA and GCC/MENA have led to the suspension of most aspects of public life.

This has created fundamental changes in consumer behavior, the most important of which are:

Movement Restriction – staying home and going out only in emergency circumstances to provide food or to receive medical services – or for some under official quarantine, not going out at all.
Bigger purchases – Seeking to provide the home with essential food and supplies. This means purchasing more food and supplies on fewer visits to stores plus increased purchase from stores that provide delivery services.
Purchase of new food products from unfamiliar companies to cope with stock-outs & increase in takeout and delivery from restaurants to deal with cooking fatigue.
Increased attention to personal / environmental hygiene – Purchase of sterilization and cleaning tools, keeping the house and all things brought inside squeaky clean.
Taking care to avoid infection – Buying more masks, sterilizers or antiseptics in particular.
Crisis spending – Some of these purchases may be unjustified and due to the panic and impact of the crisis, others are more intelligent.
More time with family – Home stays allow working parents to spend more time with children, so the atmosphere at home may undergo fundamental changes. These changes include the parents 'endeavor to maintain their children's educational and study patterns at any cost, to provide a happy recreational atmosphere for their children, to exercise at home, and to prepare larger quantities of food and treats.
More time spent online – Increases in internet use include social media browsing, searches for Coronavirus KSA and UAE updates or Coronavirus vaccine news, shopping, and exploration of new interests.
Increased use of messaging applications – Being stuck at home does not suspend the relationships between relatives and loved ones, so communication via messaging applications increases.
How to use affiliate marketing to meet the needs of your followers during Coronavirus
As you may have noticed, some of the consumer behavior changes mentioned above are as a direct result of the Coronavirus outbreak, while others are as a result of government regulations or as a precaution based response. Affiliate marketers can support all of these behaviors by sharing an array of products and services that meet the current needs of consumers and help them face new needs as the crisis evolves:

Use your power wisely! Direct your audience to the right online stores and brands which have the products and services they need.
Share specific products that you think provide them with solutions or help them to face the challenges of the current situation.
Tune in to ArabClicks email and Telegram communication – we provide suggestions on products and services that serve consumers in the crisis of Coronavirus – as well as discounts and sales on these that you can share with your audience!
Check products and services yourself. The situation is rapidly changing – and this includes advertiser coupons and offers being paused and resumed, and product and delivery availability changing hourly or daily. Before you promote a product, make sure it is available for immediate purchase and will meet the needs of your audience!
Be sure that shipping and delivery services are available to your audience areas on the products you want to promote, with extra credit for express and contact-less delivery services!
Give your fans ArabClicks coupons and deals to allow them to save a lot of money in light of the economic repercussions of the crisis! Find them here: ArabClicks Best Coupons & Deals
Check with your audience and the advertiser if necessary to ensure that your audience is getting products and services as expected! Make sure not to disappoint them – and intercede on their behalf if necessary. Your customers will learn they can trust you and this will lead to more purchases specifically through you.
Best Products & Services to Promote for Coronavirus Dubai & KSA
Food & Grocery
Promote online supermarkets that offer food & grocery delivery services.
Share online grocery providers with your audience and start earning now.
If you're not yet signed up with ArabClicks, check these brands' affiliate program details.
Health and Safety
Promote sterilizers for hands, medications, therapeutic medications, thermometers, health products and cleaning supplies.
Share health and safety providers with your audience and start earning now.
If you're not yet signed up with ArabClicks, check these brands' affiliate program details.
Restaurants and Food Delivery Services
Your followers can order food online during the Coronavirus KSA and Dubai outbreak – direct them to food delivery service providers from their favorite restaurants.
What's more, give your audience coupons and discounts codes from ArabClicks to help them save money! Share with your audience and start earning now.
If you're not yet signed up with ArabClicks, check these brands' affiliate program details.
Education, culture and reading
The opportunity to learn online via distance learning platforms, to explore and buy new books online, or to participate in communication platforms and forums on topics of interest to your fans.
Gaming & Entertainment
Yes, even though the necessity of the house helps reduce the outbreak of the new Coronavirus, it can be very tedious for many.
So many may seek entertainment solutions to kill the void, and you can provide them with innovative solutions.
Promote platforms for streaming TV and movies online.
You can also promote stores that sell games and gamer's gear.
Share entertainment & gaming offers with your audience and start earning now.
If you're not yet signed up with ArabClicks, check these brands' affiliate program details.
Summary
The recent Coronavirus crisis has driven consumers to make big increases in their online shopping practices, so now is the perfect time to share stores with delivery services and vital products to meet your audience's most important and crucial needs.

Be sure to share the relevant product and services you think your audience might need during Coronavirus in Dubai, KSA, and other locations. And don't forget to bookmark ArabClicks top coupons and deals page & join our Telegram so you can get all the latest discounts to share in your channel.

As everyone checks Coronavirus maps and waits for the Coronavirus vaccine, the world is going through a crisis and your followers are too – so contribute to meeting their needs, even if this is different from your normal content.

Many of your audience also celebrate the blessed month of Ramadan, so show up for them in the during that time of year with relevant products and discounts for them. Want to know what's relevant? Download our latest annual Affiliate Marketer's Guide to Ramadan
And Explore our NEW Guides & Tools to upgrade your affiliate promotions during the holy month to meet your audience's needs:

From all of us at ArabClicks – please enjoy this guide to affiliate marketing during Coronavirus – we send it to you with our blessings for ONLY GOOD HEALTH!