Instagram & Facebook Likes might soon be hidden from the popular social media platforms. What impact will this have on celebrities, social media influencers, content and social media marketers?
With the increase in popularity of free auto liker tools, Facebook & Instagram likes are losing their meaning. As a result, Facebook is in advanced phases of testing a version of its platforms without Instagram & Facebook likes. What are the implications of this test for celebrities, social media influencers, content and social media marketers? Will Facebook delete the "Like" entirely?
The iconic Like button is one of the most important social media icons of the last decade. Facebook created its platform in 2009, and Likes were the primary fuel which drove the culture of interaction on the platform among its users. Instagram employed Likes on its platform with more youthfulness and passion – using a red heart which Twitter then adopted in 2015. Now this button is facing a digital revolution in the world of social media platforms, with discussion as to whether to hide the number of clicks on it, and perhaps to remove it altogether. The Like button might very well be removed from the throne as one of the most important symbols of social media and components of its communication, interaction, marketing culture and return on investment.

Facebook Tests Hiding Facebook and Instagram Likes!
If you choose to participate in the limited test, the number of Likes on a post will be hidden, but you will be able to see that a friend + other have liked your post. You will still be able to tap to see the full list of people who reacted to a post, so if you want to know how many there are, you can still manually count from here.

What are the main Arguments FOR Hiding Facebook Likes?
Getting rid of Facebook & Instagram likes in the News Feed might go a long way toward curtailing people's feelings of anxiety and depression around social media popularity, and bring back increased focus on the content. Here are a few of the main reasons:
Focus On Content
Instagram deletes the number of likes because it wants users to focus more on the content they share in their photos and videos rather than on the number of likes and views their posts make. This would, according to Instagram, improve communication between users of the platform.

Mental Health of FB & Insta Users
Numerous research reports by many institutions have shown that social media platforms, especially Instagram and Facebook, have negative effects on users' mental health, causing anxiety, depression, and ongoing psychological and neurological stresses, which amount to a real threat in the user's life.


What are the Arguments AGAINST Hiding Instagram & Facebook Likes?
Hiding Facebook & Instagram Likes Could Impact Influencers, Content Marketers and Celebrities
The Like button is a key component of the culture of social media engagement. Many influencers and content creators attach great importance to Likes in assessing themselves, their performance and their creativity. Knowing what others admire in their published content directly affects the strategies developed by many influencers and social media marketers to expand their impact, success and the size of their audience.
The quantity of Instagram or Facebook Likes is more than just a number – to some, it's a crucial feedback tool!


The number of Likes is a measure of quality and reputation.
The number of Likes are amongst the factors that help influencers, content marketers, and celebrities present the quality of their social media marketing services to contracting companies, as well as attract agencies, advertisers and investors.
After the Like counter is confined to the account holder only, social media influencers & content marketers will have to take a picture of how many reactions each post has received and send it to the advertiser or their agencies. This creates another problem – the possibility of falsifying the number of likes easily using photo editing software such as PhotoShop.

But what about social media influencers and content marketers looking for a job? How will investors, advertisers and agencies find or know to pay attention to them?


Likes are used by Instagram Algorithms to rank posts in people's News Feed
Instagram algorithms use three factors to arrange images and videos in feeds:
1. The likelihood of your interest in the content of the post. The extent to which the content of the post commands engagement of course, includes the number of likes, and therefore fewer like will place your post lower in the Feed algorithm.

2. Your relationship with the person who publishes the post. This depends on several factors, including tagging, commenting on each other's stories, direct communication and more!

3. How long the post has been published. Newer is usually better.These concerns have led a Facebook spokesperson to recognize the importance of the number of Likes amongst content creators, who in turn consider this a key criterion for assessing their content, increasing organic reach to their posts, and attracting clients. The spokesperson also acknowledged that Facebook (and Instagram) are thinking of several solutions to help content creators publicize their achievements and assessments to their partners, agencies, and advertisers.


Hiding Likes Counteracts the Total Number of Likes your Post can Achieve
Another way to say this is that posts with lots of Likes build momentum and get more likes, and posts that hide likes don't benefit from this momentum.

According to a recent study to see how concealment of likes has affected the number of likes the post has achieved, HypeAuditor has surveyed 154,000 Influencers on Instagram. Australia, Brazil, Canada, Ireland, Italy, Japan and New Zealand found that hiding likes decreased the number of likes per publication by between 3% and 15% for influencers with 5,000 – 20,000 followers.
This explains the negative reactions of many influencers and content creators who make money from Instagram by promoting the services and products of advertisers with whom they partner. Many of them complained that their posts did not achieve the momentum they were counting on when Likes were hidden. After the number of likes were removed, a general decline in the influencers' overall ranking and organic reach was seen, causing their posts to not appear in their audience's feeds.


Celebrities Weigh In On Hiding Instagram Likes
Kim Kardashian supports hiding Instagram and Facebook Likes
Kim Kardashian, a famous American model and social media queen, has acknowledged that she is "happy" if Instagram's decides to delete the number of likes. For those who don't know, Kim Kardashian's Instagram account is followed by millions of users, and she charges about $900,000 for a single sponsored post.
By contrast, vocalist and pop singer Nicki Minaj opposed deleting Instagram Likes and threatened to abandon the photo-sharing social media platform if this decision takes effect.


Instagram Likes affect Celebrity Businesses
Many Instagram celebrities, who have enormous followers' bases, get unbelievable sums for every sponsored post on Instagram. The success of celebrities in influencing their followers in these platforms can be measured by the number of Likes.

For example: Cristiano Ronaldo, Juventus and Portuguese national team football player is followed by millions of users, and charges about $975,000 per sponsored post on his CR7.

Kylie Jenner, the American supermodel and the youngest billionaire in the world, earns the highest wage for every Instagram post she makes on her Kylie Jenner Instagram account, up to $1.2 million.


Pros and cons of hiding Facebook & Instagram Likes
Instagram has not yet officially announced a decision to hide Likes on its platform results, saying only that it's test results are "positive."

Right now, while both Facebook and Instagram are assessing this in view of the data, social media users are discussing the pros and cons. And opinions vary drastically between supporters and opponents.
Whether you use Facebook and Instagram only to communicate with others, or for your marketing and promotional activities, deleting the number of Likes will affect you in one way or another. Let us start from the positives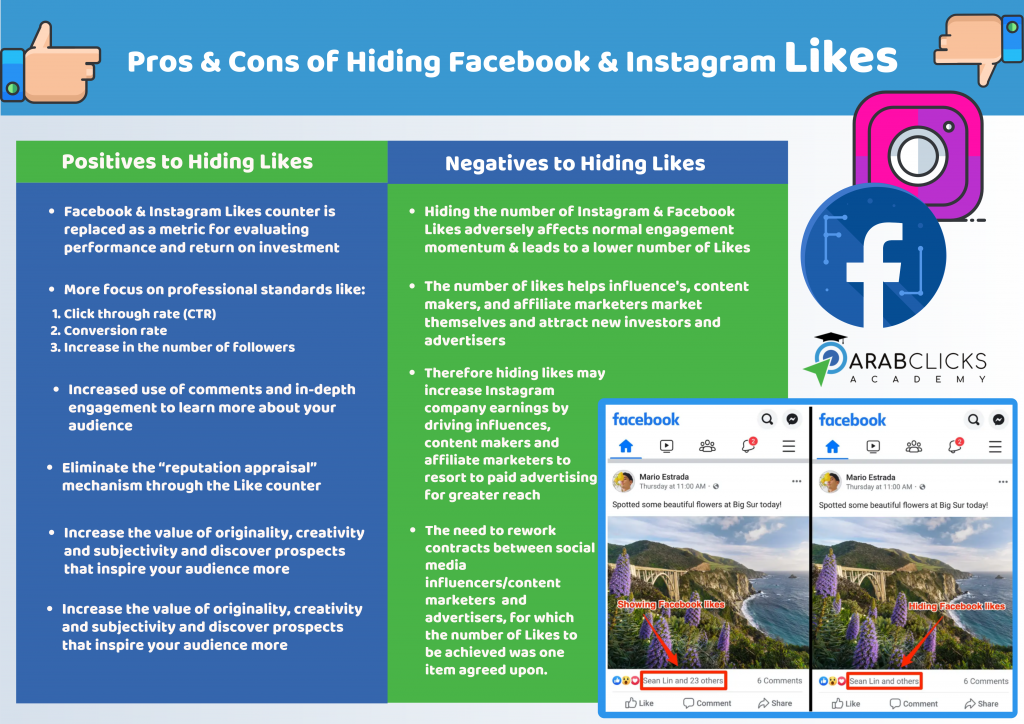 Pros of Hiding Instagram & Facebook Likes:
Getting rid of Instagram likes will force an upgrade in content & increased focus on the value it provides, not just on how many Likes it can accumulate. This reduces extremism and trends for users to take physical risks or create outlandish content just for the shock, excitement or surprise value.


Eliminate the "reputation appraisal" mechanism which is the Likes counter. In the social media world, the Like is the currency of fame, and a larger number of Likes means that the social media influencer is a more famous person. Hiding the number of Likes is a great step which will stop the false belief that more likes means more valuable content, and increase the value of authenticity, creativity and subjectivity among users.


Hiding the number of Likes will encourage users to let go and post what they love, without fear that less Likes means less value in the post. Instagram wants to consolidate the value of authenticity and give users enough space to show what they themselves are – not just to follow the trends to dictate what they post.
Hiding Instagram & Facebook Likes will improve the mental health of users – by reducing competition & its negative effects on the health of users. Such popularity counters often generate anxiety, depression, and nervous pressures as they foster a competitive and comparative social environment. Much better is to foster an environment of communication, interaction, discovery and acceptance of others – as well as the ability to relate to those coming from different backgrounds and cultures from our own!


It could be a positive challenge for influencers and content creators to dispense with the Instagram or Facebook Like counter in evaluating their performance. Deleting Likes causes greater importance to be attached to more credible metrics for evaluating a publication and its impact on others.

Better metrics could include:

CTR, especially when using affiliate links and discount codes.

Want to promote discount codes and coupons that your followers can't resist? Sign up for ArabClicks here
Return on investment
Increase in conversion rate
Discover the 6 best ways to increase your conversions from Facebook and Instagram posts here!
Increase in the number of followers
Increases interaction through written, detailed feedback and messages.

Here are 6 golden rules for creating the most interactive posts on Facebook and Instagram: discover them here!


Hiding Instagram and Facebook Likes will reduce the impact of false calculations and auto likers.
Likes feed upon Likes and this builds momentum.
This has been acknowledged by many influencers and content makers, because the Like counter makes celebrities more famous and makes those starting out feel by contrast even smaller.
In fact, based on high numbers Likes, the Facebook and Instagram algorithm shows users a narrower and narrower selection of posts, even though the content may not actually represent the diversity of their interests.
Do you have a small but loyal collection of Instagram followers and want to make money?
Find out how to earn money with less than 10,000 Instagram followers.

CONS of Hiding Instagram & Facebook Likes
Hiding Facebook & Instagram Likes will decrease social media income. Some believe that deleting the number of Likes is an attempt by Instagram to push influencers and content marketers to use paid advertising.
As mentioned above, deleting likes has a negative impact on the organic reach of influencers' and content marketer's posts, so it becomes difficult for them to expand their followers and develop their network, forcing them to resort to paid advertising in the face of intense marketing competition.


Hiding Facebook & Instagram Likes could deal a painful blow to up-and-coming influencers and content creators who are succeeding in huge user engagement despite their small follower base.
The number of Likes that up-and-coming influencers are able to command is a very powerful indication of their influence compared to the size of their follower-base. Proving this kind of influence helps these up-and-comers attract investors and advertisers and develop their profession and business. Hiding Likes will definitely make it difficult for them.


Hiding Likes will cause a redraft of contracts between influencers, content makers and celebrities on the one hand, agencies, investors and advertisers on the other.
The Like counter is one of the primary conditions affecting the terms of influencer/ advertiser contracts. In many contracts each Like has a price, and after Likes are hidden there will be an absence of a legitimate alternative solution to enable content marketers and celebrities to reliably prove the number of Likes and Views they've provided to their advertising partners, so there will be a need to amend employment and partnership contracts.


Hiding the number of Likes does not address other problems which affect the mental health of social media users. Amongst them: cyber-bullying which uses threats or ridicule to intimidate and harass, injuring others reputations by exposing personal photos or information online, and the old classic – showing off lifestyle differences which reveals the psychological gap between the poor and the rich.


Summary
Instagram and Facebook users disagree about hiding the number of post Likes, and everyone is waiting for Instagram to announce its decision on whether to hide the likes or not, or even whether to cancel the Like button completely.
We ArabClicks Affiliate Marketing Network, don't mind either way. Deleting the Like does not affect the marketing and promotional activities of affiliate marketers and influencers through Instagram and Facebook to whom we offer our services, This is because we are only keen to focus marketers interest on the dissemination of valuable marketing promotional content that serves their audience.

We encourage our marketers to post with sense and thoughtfulness, to solve their audience's problems and help them achieve their goals. We provide our affiliates with all the innovative means and techniques in the world of digital marketing so that they can evaluate their marketing and promotional activities, based on practical criteria and credible professional feedback. Our affiliates measure their success in money earned
Do you want to work as an influencer and earn a lot of money? Do you create your own social media or web content and have a desire to monetize it? We are here for you and for all the people who want to use their talent to make money online with affiliate marketing. Join us now on the ArabClicks Network – together we'll touch the sky!