Eid is Here!
Eid means a few vacation days for everybody – time with family, dressing your best, and celebrations that go on and on.  
Eid also means that people will be spending more time on the internet – their phones in particular. You can also be sure that the e-commerce sites will be booming! 
Have you thought about taking advantage of the increase in internet engagement and e-commerce sales to earn money?  Well, now you have 😉
So don't worry – we've got your back! We've summarized the top marketing tips so you can make the most out of Eid. That right – this Eid you'll earn money!!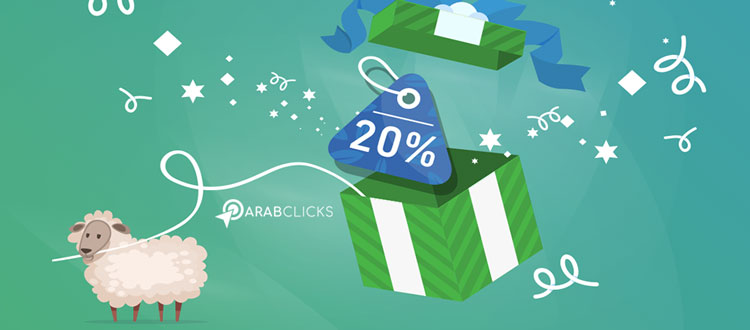 How to maximize Your Income in Eid al-Adha
Perfect Eid Marketing Tips
Eid Gift Recommendations 

Your followers will be buying gifts so pick your favorite 5 ideas from the ArabClicks App (Android/iOS) and promote them!  Everyone who follows your recommendations will earn you a commission.  

But remember not to suggest just any product  – pick only what matches your usual content theme and will fit with your channel as a whole.

Eid al-Adha Sales

During Eid you'll probably find great discounts for your favorite stores and products. No matter what your channel-specific subject matter, you can also probably find relevant ArabClicks discount coupons for your channel. 

Share these relevant discounts with your audience to amp up your Eid al-Adha sales! 

Make a Charitable Contribution. 

You can contribute a percentage of commissions earned from Eid purchases to charity. Even a small percentage – say 3% – will be meaningful to your audience and help them to feel a camaraderie with you during this season.

Also, connecting with your audience on a heart level using values you both share will amp up the trust between you and your audience and create a powerful incentive to buy.

A larger contribution – say, 10% to 15% of your earnings – will act to make your audience feel they are doing a good deed just by purchasing from your links.

Eid Imagery & Other Muslim Symbols.

Incorporating friendly sheep into your creative is a good way to let people know you're connecting with their mood.

If you can't think of an appropriate way to include Eid imagery, you can also include the star and crescent moon, or a mosque / minaret shape in a tasteful and clever way.

Share Your Eid Moments.

Be authentic! Your followers want to know how you are celebrating Eid , so share your Eid moments with your audience.  It will be a nice change…

You can do this in lots of fun ways… You can show up in a post dressed for the holiday, you can share a funny family anecdote or even post special photo from this Eid or another Eid from years past.

In any case, don't forget to wish your followers a happy holiday!
Summary
Whichever method you prefer to use to connect with your audience during Eid al-Adha this year, do something. Just acknowledging the season could make a real impact on your channel and increase your sales.

If you're just starting out and are not sure what to promote this Eid, check out 3 Need-To-Know Tips For Making Money this Eid.
And if you're just starting off with affiliate marketing and want to learn more, check out our Beginner's Guide or just sign up with ArabClicks and learn as you go!

Have an Eid Said!