Eid al-Adha is just around the corner and your audience is online right now searching for the best prices on their Eid purchases. Do you have a strategy yet to make money from these purchases?

Some affiliates simply don't post for Eid. Others repeat what they posted last year. Yet others, simply NAIL IT.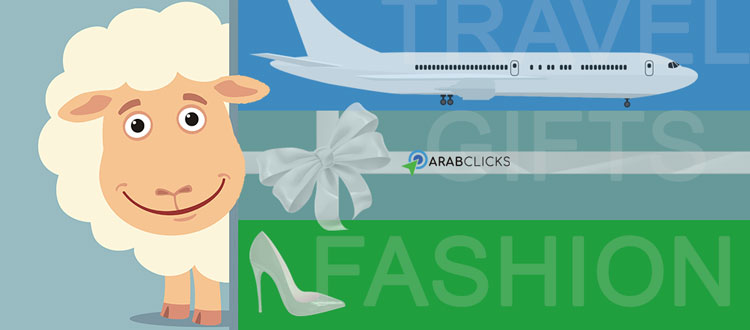 Confused about your Eid marketing?
Follow these 3 steps to create a killer content strategy.

Know what your audience will be purchasing this Eid. By knowing what your audience purchases will be, you'll be able to earn from these purchases. To look for just the right coupons for your audience


Tune-in to ArabClicks Academy for up-to-the-minute info on purchase trends and predictions. Our top predictions for Eid al-Adha 2019 sales are Gifts, Fashion, and Travel.


Promote what you know your audience will be buying. Their Eid al-Adha purchases will happen with or without you, so be there at just the right time with the right discount code to get your % from the profit.
Need more help crafting your perfect content strategy?
Here are some more ideas and insights on our three top Eid al-Adha sales predictions so you can craft the perfect affiliate marketing content for your audience.


Gifts
Eid al-Adha is a time for gift giving so you'll earn when you promote popular gifts. But what Eid gifts are the most popular right now?

As you know, GCC/MENA people are very digitally savvy, and as a result, we'll see an increase in electronics sales during the Eid al-Adha season. Ask your ArabClicks account manager for exclusive electronics discounts you can share in your channel.

Another popular gift during this time is jewelry/watches & perfumes for both men and women. ArabClicks has great exclusive discounts for a number of great online stores selling a top selection of world class perfumes, jewelry and accessories.

Check here for a full updated list of exclusive discount codes you can share with your audience as an extra incentive to buy.


Travel
Beyond the travel for Hajj that is an essential part of this time frame, many others book vacations and travel plans to other locations as well. Many Muslims living abroad book expensive tickets to go see their parents or families of origin in the Middle East during this time, while others simply take the opportunity to book a long dream weekend in Europe or Asia.

ArabClicks has tons of great travel discounts you can share with your audience RIGHT NOW to make a profit from their travel purchases.


Fashion
Clothing is a major percentage of Eid spending as people buy new seasonal finery and shoes. It is a custom for Muslim men, women and children to dress their very best while they perform Eid al-Adha prayers and make the rounds visiting friends and relatives.

Make money sharing timely fashion discounts and sales, highlighting traditional and conservative clothing – often in white or black – to catch people in the mood they're in.
Summary
We hope that this guide to Eid al-Adha content has given you some insight and tips not only into what you'll want to promote, but how you should promote it.

As always, you should promote products that you know to be high quality, that are appropriate for the main themes of your channel, and that you think will be well-received by your audience.

The most important thing is that you find the products that work for you and you audience, and that you share discount coupons in your channel to cash in!

If you want exclusive discounts for your channel but are not yet signed up with ArabClicks, create your account right away so you can immediately start earning money this Eid with coupons.