What, Where, How, When & Why – Everything you need to maximize your affiliate income from Singles Day, White Friday, Cyber Monday & UAE Day 2019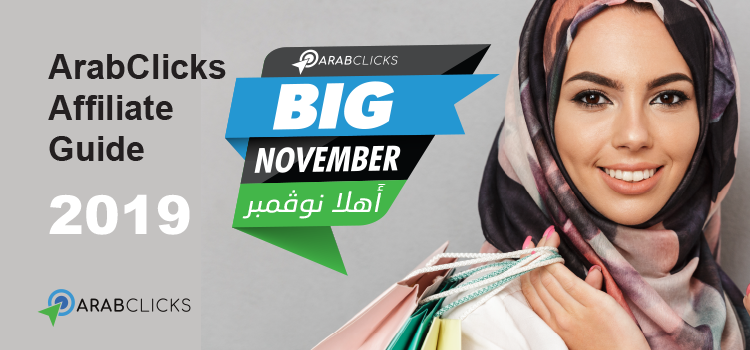 Welcome BIG November 2019! With online shopping awareness and exponential spending on online shopping platforms soaring, this month promises marketers a lot more! Are you ready to earn money from White Friday, Singles Day, Cyber Monday or even UAE National Day?
Luckily, we give you everything you need to know about Black November 2019: the most important events and dates, the best advertisers, categories and offers, and the most important tips to make a lot of conversions and earn huge profits with affiliate marketing.
We at Arabclicks are eager for your success: please enjoy this guide that we have made especially for you❤️!

WHAT is BIG November?
BIG November is the collection of shopping events taking place between November 1 and December 3 that include 11.11 Singles Day, White Friday, Cyber Monday & UAE Day.
As the story goes, the Black Friday shopping festival began in the United States but soon became an annual global phenomenon celebrated by the online retail industry around the world.

Out of respect for the cultural importance of Friday, the Arab World celebrates Black Friday as White, Yellow, Blue, Golden or Mumz Friday.

According to Mohammed Alabbar, the founder of Noon, the site is expected to attract more than 25 million online shoppers on its Yellow Friday sales for 2019 between the 24th and 30th of November.

WHEN is BIG November 2019?
11.11 Singles Day started every November 11 in China as a way to celebrate the financial benefits of being single, and now enjoys status as the globe's biggest shopping festival, with annual sales of over $30 billion. The festival begins with a warm-up period on October 28 & continues until 12 noon on November 13.

White, Yellow & Black Friday events span the month of November or focus on the last week of the month. Various brands, retail sites and online shopping platforms launch wide discounts and countless discount offers, up to 90% on various products from all categories.

With the growing awareness of online shopping and the development of the online retail sector in our Arab world from year to year, White Friday 2019 is expected to attract record numbers of online shoppers and generate unprecedented revenue.

Cyber Monday which has now become Cyber Weekend, begins on November 30 after White Friday sales officially end, and will continue until December 2. It's a way for busy shoppers to continue their purchasing without missing all the deals.

This year, UAE Day will take place just after Cyber Monday, so you can expect to see joint promotions that continue until December 3.

A Gift for You from ArabClicks
You may be thinking, "There are so many events, and dates to be aware of! How can I keep on top of it all?"
Don't worry – ArabClicks is here for you: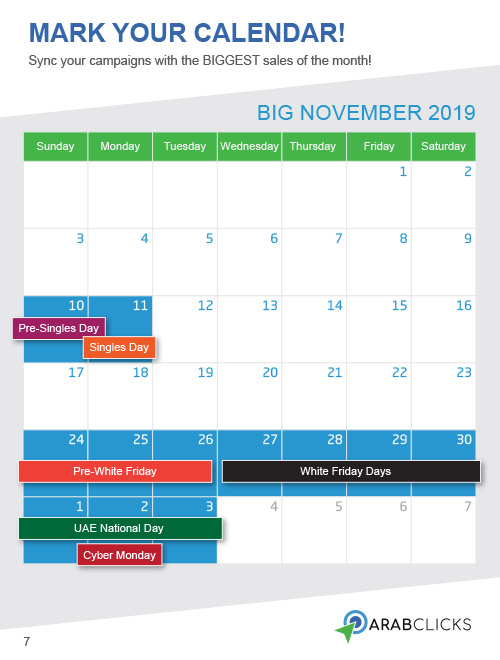 Also stay tuned via email, Telegram & our Facebook page throughout the month. We watch all the biggest advertisers for the best sales and keep you updated in real-time!


WHICH are THE Stores to Promote for BIG November?
We've given you a full list in the Guide, but here is a short list of the TOP names to look for this BIG November.

Noon- With 25 million shoppers and visitors expected, some of your audience will be buying for SURE. Promote Noon to make sure you get a commission from their purchases.
Souq
Jumia
AliExpress
X-cite



WHY Should You Increase Your Marketing this BIG November?
For months, all the top brands have been getting ready for BIG November. Leading shopping sites are expecting daily sales increases of over 1500% for a grant total of over $50 billion in sales during the month.

And with BIG November sale awareness of almost 80% and over 60% of GCC/MENA shoppers making major purchases online this month, affiliates wait patiently for November, as it means more commission and more earnings for them.

Massive discounts up to 90% from top advertisers, plus over 50 million online shoppers who are constantly looking for the perfect deal work together to provide you a perfect setup – everything you need to earn a lot money affiliate marketing is available during November 2019.

However, even though the opportunity for earning money is bigger, this does not necessarily mean that you will earn more. The competition increases and you'll need to prepare in order to earn your share – just like the best shopping websites.



HOW Can I Earn More this BIG November?
BIG November is the perfect opportunity for every affiliate marketer to make money this year. Although the revenue is huge, your share of it is fundamentally dependent on your ability to compete for every online shopper, and how persistent and engaging you are with your marketing and promotional activities.
We offer you two very important articles that will help you prepare for White Friday and Black November and compete efficiently for the largest share of revenue:
Key advice from our top affiliates on how to make the most from your campaigns for White,Yellow and Black Friday, Singles Day, Cyber Monday & UAE Day 2019!
Where your GCC/MENA audience will be shopping – and exactly which categories and products they will be buying for White,Yellow and Black Friday, Singles Day, Cyber Monday & UAE Day 2019.



WHERE to Find the Best Deals & Coupons for BIG November
With such a HUGE quantity of sale events, flash sales, super discounts, contests, prizes, coupons and more spamming you from every direction this month, how can you find the very best discounts and promotions to feature in your BIG November affiliate campaigns?
Never fear! The ArabClicks staff is working round-the-clock all through BIG November, staying on top of all the best sales, and discounts, deals and coupons – so you don't have to.

Get your BIG November deals & coupons from ArabClicks through:

Facebook- We update our offers pages daily with the newest and best discount codes available. Get your codes HERE

Telegram- Subscribe our channel to get the latest discount coupon codes and the best discount offers before everyone else. Join us @ArabClicks

Email- If you've joined ArabClicks, you're already getting the BEST deals from the HIGHEST PAYING advertisers right to your inbox through our newsletters and other special promotional emails.

If you haven't yet done it, sign up now and we'll keep you posted on events and updates you need to improve your performance.


Summary
Why use ArabClicks' BIG November Affiliate Guide? Well, it's easy 🙂 Because with this comprehensive guide you're ahead of the game this BIG November. You have all the info you need to make a ton of commissions during BIG November's super-sales.
We've brought you all the dates, facts, tips & market insights you need to determine your target audience for each event, which top brands to promote, and which specific categories & products will be hottest.
With this Guide, you have everything you need to easily plan your affiliate campaigns. Get started right now! Login to ArabClicks and get SmartLinks & Coupons for your channel.
Bottom line: the opportunities are in your hands.
Take hold of them and go earn BIG this BIG November!